Adrian Belew, po mom mišljenju jedan od najoriginalnijih rock gitarista uz Hendrixa, Frippa, Andy Gilla i Acle Kahneya, što se može jako lijepo vidjeti u jednom promo materijalu kojeg sam štampao 1994. za potrebe FACE '94 festivala u Koprivnici gdje sam baš njega naveo kao jednog od meni omiljenih gitarista, nažalost, nikad nije bio osebujan autor onoliko koliko je doprinjeo svojom svirkom drugima.
Meni je naznačajniji kad je zarašpao "Great curve" s Talking Heads na "Remain in Lights" albumu i odradio kompletnu turneju na kojoj je snimljen i onaj čuveni, fantastični, prvi live "The Name Of This Band Is Talking Heads" iz vremena njihovog najinteligentnijeg punka, a Adrian je tamo odsvirao čudesa kao mršavi zreli tridesetogodišnjak, blago proćelavi u ogromnim širokim vrećastim 'baggy trousser' hlaćama kakve su tad bile u modi. Koristio ga je i David Bowie na krivo protumačenom albumu "Lodger" (1979), Ryuichi Sakamoto, Cyndi Lauper ("True Colours"!!!), te cijeli niz različitih žanrovskih izvođača kojima je dao posebni šmek za specijalne narudžbe. Od 1982., kada se odvažio da počne raditi vlastite solo albume, do ovih dana ih je nanizao 15 komada s oprečnim sadržajem što su se stilski toliko transžanrovski izmiješali da je na ovome "Pop-Sided" gotovo nemoguće dati jedan konačan profil. Mada ga se najjednostavnije prilikom izlaska opisalo kao progressive-rock, on je ipak netipičan: zna se da bi to trebale biti razvučene pjesme od po barem 5-6 minuta s kompleksnim aranžmanima, one to također nisu jer nema niti jedne dulje od jedva jedvice nategnutih 3 i pol minuta ("
Altough
" i "
Wait to worry
"). Više bi se reklo da Belew ovdje, po prvi puta nakon 2009. kad je objavio prethodni album "e" zakoračio u miš-maš svega i svačega od uvodne pop akustike "
When i sit coming back
", noisea "
Obsession
", zvrckastih The Beatles/ The Smiths manira "
The times we live in
", komornog pub-rocka "
Everybody's sitting
" u kome zajedljivo komentira da '
svi sjede gledajući TV na mobitelu i kupuju online
' ili pak slobodno eksperimentira s new-waveom, post-punkom, industrialom kroz teme "
Lobster and hypocrities
", "
The ladder of life
", začudnim gitarskim tonovima imitira duhače, gudače i synthove u "
Take five deep breaths
" i tako redom od pjesme do pjesme.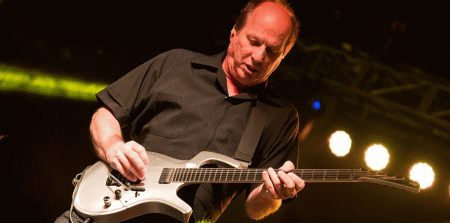 Adrian Belew 2019.
Višestranim poveznicama akustike, električne i specijalno tretirane gitare s tko zna kakvim pomagalima, pedalama distrozija i efekata, dao je vrstan zvučni kolaž kojim je jezdio svih ovih 30-tak godina, međutim, kao autor je vrlo tananih korespodencija: varira između sladunjavog pop-rocka i oštrih bridova pokušavajući iznjedriti kompaktnu strukturu koja bi bila istovremeno i zabavna i duhovita i kritički usmjerena. Izuzev tek nekoliko stihova u kojima se poigrava poetskim karakteristikama protesta i ironije, globalno gledajući daleko je od svojih velikih 'gazdi' kojima je gostovao u daleko kreativnijim kompozicijama, odnosno, kao instrumentalist je vrlo potentan, ali onaj drugi dio, ideološki, s kojim bi pokrio i objedinio besprijekorni talent i rad je šepaviji kaskajući kao nadobudno nazubljen, ali 'zelen' tinejdžer za iskusnim znalcem alata i zanata.
Naslovi: 1.When is it coming back, 2.Obsession, 3.The times we live in, 4.Everybody's sitting, 5.Lobster and hypocrities, 6.Altough, 7.Take five deep breaths, 8.The ladder of life, 9.Road rage, 10.Wait to worry, 11.Luminous
ocjena albuma [1-10]: 7

horvi // 28/04/2019