Umjesto očekivanog drugog albuma, nimalo obični Airborne Toxic Event snimili su poseban DVD sa snimkom iz Los Angeleske Walt Disney koncertne dvorane uz pomoć gudača, trubača, zbora i odlične domaće im publike. Uz DVD dolazi i cd, koji nema iste pjesme kao i DVD, stoga se može gledati/slušati i kao odvojeno izdanje. I dok ne "padne" DVD snimak, slušamo audio zapis...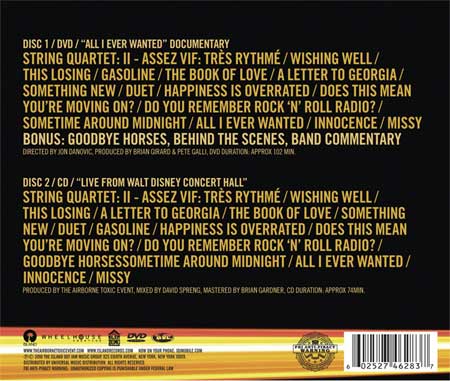 Mirna Ravelova Assez Vif: Trés Rythmé sve nervoznije prelazi u fenomenalnu Wishing Well koju prati nervozni text
You wanna run away, run away Just get on the fucking train and leave today
. Wishing Well uživo zvuči još bolje nego studijska verzija, a This Losing, iako ima studijsku verziju (bonus na europskom izdanju debi albuma), nije toliko izražena i poznata i sva je sreća što je osvanula na ovom izdanju.
Dalje se do kraja izmjenjuju nove i stare pjesme, brze i lagane, a sve to u odličnom live štimungu uz vidno raspoloženi bend i goste koji su im se pridružili te večeri.
Od novih, još neobjavljenih pjesama laganica A Letter To Georgia i gudačima potpomognuta All I Ever Wanted jedva čekaju svoje studijsko izdanje.
Standardne već poznate pjesme, djelomično su izmijenjene, pa tako Something New zbog uvoda na harmonici u ovoj verziji ima lagani kaubojski prizvuk, Gasoline je ubrzana do granica mogućnosti, dok im se Happiness is Overrated činila savršenom u svojoj studijskoj verziji, pa su je takvom i interpretirali. Prvi singl Does This Mean You're Moving On?, dobila je trubački uvod Belmont High School Marching benda, od preko dvije minute i sada zvuči bolje nego ikad.
All I Ever Wanted (Live From Walt Disney Concert Hall)
Taj dio je bio znak za raspašoj, jer ako niste nikad čuli Do You Remember Rock 'N' Roll Radio u trubačkoj verziji, vjerujte mi ne znate što ste propustili. Još je jedna obrada našla mjesto na ovom albumu. To je pjesma Goodbye Horses, "one hit wonder" američke pjevačice Q Lazzarus. Pjesma je 1988 harala top listama po SAD-u, a to joj je osiguralo pojavljivanje u barem desetak filmova (u Silence of the Lambs i Clerks II, između ostalih) ili serija, te video igrica. Kako i zašto su je ATE izabrali, još je nepoznato, ali u njihovoj izvedbi pjesma zvuči sasvim pristojno. Treća obrada odnosi se na pjesmu Magnetic Fields-a The Book of Love, koju je Mikel Jollett tog trenutka posvetio nedavno preminuloj mu baki, izvrsno je odsvirana i otpjevana. Svojom izvedbom uvelike odskače od originala, a pogotovo od nedavne Peter Gabrielove obrade iste pjesme. Ovo je nedvojbeno najemotivniji trenutak na zapisu, a slijedi ga pjesma Duet, koja je kandidat za najbolje ovogodišnje stihove, a vjerujem da je pisana za istu "bivšu" koja je bila tema pjesama Does This Mean You're Moving On? i Sometimes Around Midnight, a otkriću Vam samo dio. Srcedrapateljno, emotivno i predivno...
And you say la la la I'm so glad I'm over you.
As you reach for your drink and you tell me you like my shoes.
And I smile like a wretch, there's not much else I can do.
I say I know what you mean, yeah, it's weird for me too.
Besides what would I sing about if I had you.
A za sve one kojima njihove cure ili supruge još uvijek ne kuže zbog čega se uzbuđujete kad im po ko zna koji put pokušavate objasniti razliku izmeđi Stone Roses i Charlatans, evo i stih za Vas.
I think maybe it was Radiohead
That had this weird little beat and a keyboard instead
Of guitar playing chords, I remember how bored
You would get with those bands
You always said they play the same three chords
Za kraj su ostavljene Innocence, u produženoj verziji s gudačkim krešendom na kraju i Missy u kojoj im se pridružio dječji zbor i trubači i gudači i dali sasvim novu, vjerojatno neponovljivu dimenziju pjesmi.
ocjena albuma [1-10]: 9

pedja // 06/10/2010