Dok svakodnevno s radija odzvanjaju hitovi
The Stranglers
, urednici na žalost zaboravljaju da je gitarist, frontmen i većinski autor materijala
Hugh Cornwell
nakon što ga je Jean-Jacques Burnel onako ispremlatio crnopojaškim karate zahvatima naredao nisku finih solo albuma.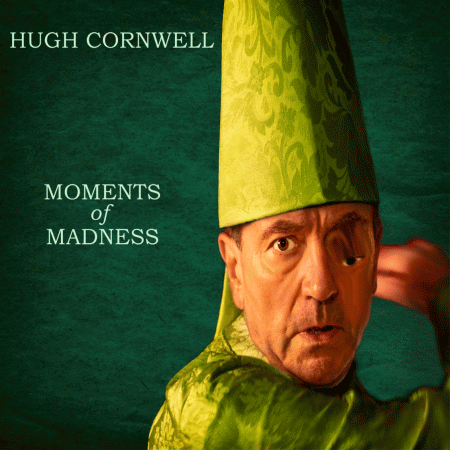 Proveo je 16 godina s daviteljima, napustio ih nakon tog sukoba s glavnim meštrom za tabanje realiziravši onaj zadnji "10" album s njima 1990., a baš se čarka desila što je dvije godine ranije napravio prvi solistički "
Wolf
" i odlučio da nema smisla biti u bendu gdje se više ne osjeća poželjnim. Zaboravilo se da je u solo karijeri napravio barem dva odlična albuma "
Guilty
" (1997) i "
Hi Fi
" (2000), te da je daviteljima davao boje i melodije s mnogo čudnovatih lirskih elokvencija punih užasa i brutalnih scena.
Hugh Cornwell © 2022
U 73. godini života isporučuje ovaj jubilarni 10. solo album, minimalizirani rock čvrsto privržen post-punk načelu gitara-bubanj-bas, ničega previše i 'malo je dovoljno' ogolivši zvuk bez ikakvih šminkerskih tendencija. Jasno, nikad nije bio osobiti gitarist kumulativne ekspresije, ali je uvijek imao veliki dodir s melodijom koja je u svojoj iskonskoj grubosti stvarala uzbuđenje. Ovdje je na 35 minuta isporučio prijemčljiv, vrlo ugodan post-punkerski rock kroz obrise divljeg čovjeka koji možda nikad nije bio mladić, kako sam za sebe kaže, u vremenima punka, ali je uvijek stvarao mladenački s puno entuzijama i nestašluka.
Tako je ovdje priča o prokletoj pandemiji i lockdownu u otvaraču "
Coming out of the wilderness
" s Velvetovskim štihom hrapavog minimalizma u dva akorda otkrivajući snagu pjesme bez ikakve pomoći klavijatura i ne osvrtajući se za prošlošću. U prvom singlu "
Red rose
" očito puca na radiofoničnost razmišljajući o tetovažama na ruži mistično se uvlačeći u "Killing moon" Echo and the Bunnymen pomalo uranjajući u psihodeliju 60-ih veselom "
I wannabeinsideya
" temom svjetske metafore - života na brodu, što je ranije često znao koristiti. U to se dodaje još nekoliko tema sličnog serijala poput TV sapunice poput "
Too much trash
" diskutirajući o engleskim priljepcima što ih naziva stjenicama i cool blues jazzy ritmikom završne "
Heartbreak at seven
" pokazavši da ljubav još uvijek ima smisla.
Najzanimljivija je svakako brza "
When I was a young man
" u kojoj osjeća sažaljenje i empatiju prema mladima koji su bili dvije godine odsjećeni od bilo kakvih izlazaka, a ritam juri poput vlaka uz nekoliko surf dionica. Naslovna pjesma "
Moments of madness
" potpuna je reminiscencija new-wavea s reggae ritmom koji je povremeno znao vibrirati u daviteljima (sjetite se "Peaches" ili "Nice'n'sleazy"), a tekst je pun namjernih besmislica što ih potpisuje
Edward Lear
. Sličnosti s The Police su opravdani. "
Beware of the doll
" ponovno poseže u 60-te, naravno The Doors jezivim odjekom gitare i hladnim, mračnim vokalom (a i "
Looking for you
"), onim stilom koji je stalno visio u zraku prvog albuma The Stone Roses i kasnijih singlova "Fools gold" i "One love", a nadasve, ovdje se nalazi mogući ubodni radio hit "
Lasagna
" s akustičnom r'n'r ritmikom Elvisa kralja i dvosmislenim tekstom o potrazi najbolje talijanske hrane u Meksiku. Mogući evergeen radio hit!
Kada se sve ovo posluša, okey, možda prvi puta ne sjedne na idealno mjesto jer se od Hugha očekuju davitelji i poznati im zvuk, ovo je album s prokleto dobrim, melodičnim, ritmičkim, plesnim, pjevanim i primamljivim pjesmama koje u globalu imaju cjelovitu i dorečenu fabulu o svijetu pandemije i izlaska iz nje.
Naslovi: 1.Coming out wilderness, 2.Red rose, 3.I wannabeinsideya, 4.Looking for you, 5.When I was a young man, 6.Moments of madness, 7.Beware of the doll, 8.Too much trash, 9.Lasagna, 10.Heartbreak at seven
ocjena albuma [1-10]: 8

horvi // 29/10/2022