Uprkos tome što u svom domu postojimo kao porodica, gledamo tv, slušamo zvuk sa tv-a, djeluje neki drugi slušni podražaj. Začudili bismo se da on uopšte postoji. Možda bi bili ubijeđeni da nas on godinama remeti, jer neko ko čita tekst ili izgovara mukotrpno riječi, trudi se da ih pravilno izgovori. Da li u tom remećenju postoji međusobni rat televizija sa stanovništvom, stanovnika međusobno, ne znam, ali mislim da sve dok nema "fizičkog kontakta" to je prihvatljivo. Nažalost. Ovo izdanje je jedan takav kolaž, autora koji se skriva, potpuni anonimus. Anonimusi možda mogu biti prepoznati od strane ljudi koji imaju te receptore za komunikaciju. Rekao bih da se oni, anonimusi, kreću, iskazuju svoje mišljenje, u blizini televizija, mjesta sa kojih se šalje program na naše male ekrane, da poguraju taj pravac, doduše danas ne toliko male ekrane koji nas zbog svoje veličine preporučuju da budemo jedni od njih. Zvučni efekti su više "bitni" nego ono što slušamo. Ono što čujemo ima prolazno dejstvo u trenutku kad želimo da se zadržimo, poput petarde. Izdavačke kuće prihvataju mnogo više žanrova nego što bi htjeli ograničenjem na jedan ili nekoliko njih, biti pravi label u svijetu umjetnosti, izdavaštva, štampe i još mnogo toga, te je prava rijetkost viđeti izdavačku kuću nalik ovoj.
Naslovi: 1.Zero Unit 39:39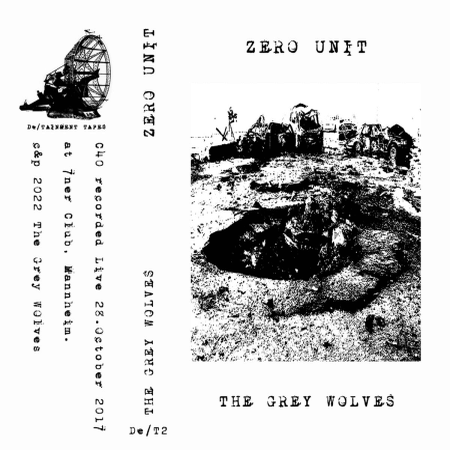 ocjena albuma [1-10]: 9

edo žuđelović // 26/08/2023
PS: The Grey Wolves were David Padbury and Trevor Ward. They have existed since the early 1980s when they began releasing a number of tapes via their label Anal Probe, which later split into Artaman and Zeal SS; the latter changed its name quite often, incl. Strength Through Awareness, Lebensborn and Open Wound. In 1992 they were contacted by Tesco Organisation and recorded their first LP.
The Grey Wolves also are a British Industrial music group. They were formed in 1985. They has been credited with pioneering the 'death industrial' subgenre in industrial music. Their work has also been described as 'dark ambient' and as 'power electronics'