U petak 17. veljače će se u zagrebačkom klubu Boogaloo u sklopu programa Rock Party održati Motorhead night gdje će grupa Broken Rockers svirati hitove Motorheada. Prije koncerta će na velikom platnu biti projekcija dokumentarnog filma o legendarnom frontmenu Motorheada Ianu Fraseru Kilmisteru, koji je poznatiji kao Lemmy, pod nazivom "Lemmy - 49 % motherfucker, 51 % son of a bitch".
Nakon filma i koncerta će se nastaviti hard'n'heavy slušaona gdje će Sasha The Cult i Tomi Phantasma vrtit rock i metal hitove grupa AC/DC, Black Sabbath, Alice Cooper, Kiss, Billy Idol, Iggy Pop, Saxon, Motley Crue, Van Halen, Guns N' Roses, The Cult, Bon Jovi, Judas Priest, Iron Maiden, Sepultura, Danzig, Metallica, Misfits, Anti Nowhere League, Ramones, In Flames...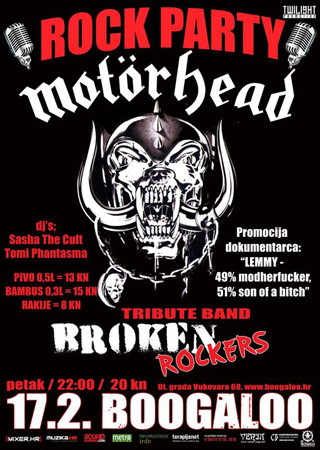 Cijene pića su prilagođene kriznoj situaciji pa će tako pivo od pola litre koštati 13 kn, bambus od 3 dcl koštati 15 kn, a rakije i pelinkovac 8 kn.
Vrata se otvaraju u 21 sat, projekcija filma će započeti u 22 sata a koncert Broken Rockersa u 23 sata. Cijena ulaznice će iznositi 20 kn.
Boogaloo ima veliku, zatvorenu i grijanu terasu gdje se slobodno može pušiti.
Dobrodošli!
promo girl // 12/02/2012