WATCHERS (Chicago, ZDA) disco punk funk, ponedeljek 15/05/2006
glasbo vrti ekipa kolektiva Prekmurje Noise Conspiracy
Vstopnina: 500 SIT
Novi M.I.K.K.- ov klubski prostor v soboškem gradu v Murski Soboti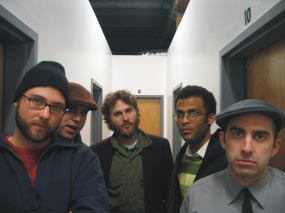 watchers
An incendiary blast of soul, punk, funk and subterranean rock, WATCHERS combine mile-deep grooves, no-wave skronk, dub experimentation and soul-drenched strings into a full-on dance party. This wildly inventive debut zigzags across genres with expert precision, creating a sound that unifies the jagged intensity of Chicago rock with the booty-shaking push of funk. Angular guitar textures interlock with sweatbox rhythms in a completely organic way; dissonance resolves itself in the groove. It's time to party... to the rooftops!
"An absolute masterpiece." -The Big Takeover
"A great record, period." - PopMatters
TRUE (Samobor, HR), DICKLESS TRACY (Brežice, SLO), sobota 13/05/2006
Vstopnina: 500 SIT
Prostori MD GROMa (stari vrtec) v Gornji Radgoni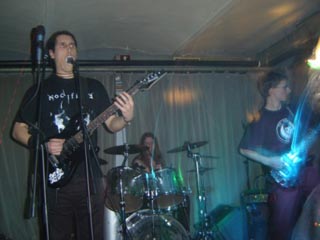 dickless tracy
V soboto 13. 05. 2006 se bo v MD GROM, Gornja Radgona zgodil grind(y) koncert domacih Dickless Tracy in hrvaskih True.
Brez nakladanja: oglejte si domaci strani bendov!
Dickless Tracy grindajo od leta 1997. Od takrat so izdali cel kup demo posnetkov na kasetah in dva celovecerca (vse v samozalozbi) ter imeli na desetine koncertov vsepovsod po sirnem svetu. Trenutno na slovenski turneji reklamirajo novega, iz Kanade uvozenega kitarista in prihajajoco plosco.
True (Samobor) zasnovan decembra leta 2003 v zelji, da se svetu ponudi se nekaj hrupa. Petclanska zasedba je posnela demo in koncertirala po Sloveniji in Hrvaški. Kitara, bas, bobni, tamburica in vokal ustvarjajo neke vrste mešanico etna, grinda, metala.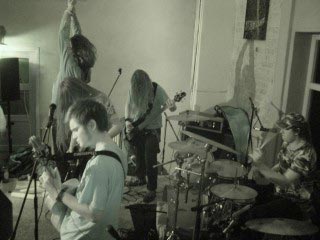 true
promo guy // 10/05/2006

> vidi sve fotke // see all photos