Hardcore for the Losers / OLD LOSERS & Klub Attack s ponosom predstavlja jedan od najboljih novih indie punk rock bandova:
IRON CHIC ( Huntington Station, New York )
http://www.ironchic.net/
Bend već legendarnog statusa na d.i.y. punk rock sceni, kojeg predvode Chris Douglas & Brian Crozier, članovi još legendarnijih Lattermana gostuju prvi put u Zagrebu.
Nastali prije 5 godina na Long Islandu, vješti su spoj melodičnih gitara bez puno distorzije i nabrijavanja s dosta singalonganja. Definitivno jedni od prvaka žanra. Iza sebe imaju šest izdanja (2008 demo, Not Like This LP, Shitty Rambo 7'', Split N' Shit 7'', Spooky Action 7 ', Constant one LP') izdanih za Dead Broke Rekerds, Yo Yo Records, Bridge Nine Records. Za fanove ljubitelje Lettermana, RVIVR , Small Arms Dealer, Capital, Get Bent & Jonesin', Sport, Bangers, Elway, Nothington,Leatherface itd itb.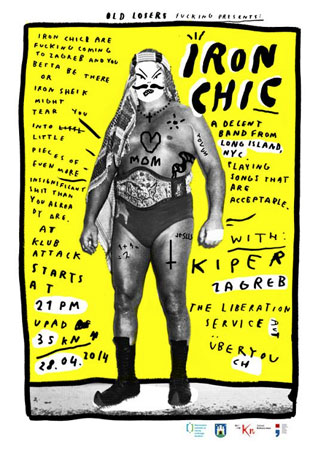 KIPER (Zagreb)
THE LIBERATION SERVICE (Graz)
ÜBERYOU (Zürich)
Before <> After slušaona
Dj Matthev Edge
Dj Losmuerto
(Leatherface, Nothington, Jawbreaker, Letterman ... )
Od 21h, Ulaz minimalna donacija 35 kn
Homofobi, fašisti, sexisti, rasisti, ustaše i četnici ostanite doma.
Ⓐ - Ⓔ
GOOD NIGHT WHITE PRIDE !!!
promo guy // 24/04/2014