Počeli smo sitno brojati do 09.06. kada će se održati prvi koncert
QOTSA
u regiji, u nizu Ljubljana-Zagreb-Novi Sad, a sada je već poznato da su predgrupa naše
Punčke
.
Queens of the Stone Age
su još uvijek na turneji na kojoj promoviraju svoj šesti studijski album,
Like Clockwork
koji je izdan prošlog lipnja kada je terapijska ekipa pohodila
bečki koncert
.
Like Clockwork
je odlično primljen i od kritike i od publike, iako je osjetan zaokret u zvuku te su im neki zamjerili manjak karakterističnog stonerskog zvuka.
Queend of the Stone Age - I Appear Missing
Ipak, Like clockwork donio je neku novu dubinu koja je rezultat osobnih životnih priča Josha Hommea. Sam Josh je to najbolje sažeo: "Documenting the journey of moving forward, you know. It was a tough time and I thought, 'I can run away from this, or I can run into it.'"
Vizual i animacije britanskog ilustratora
Bonefacea
prate cjelokupni album, vizulani identitet, najavne filmiće ali i koncert projekcijom na video zidu što koncert QOTSA na ovoj turneji čini nezaboravnim događajem.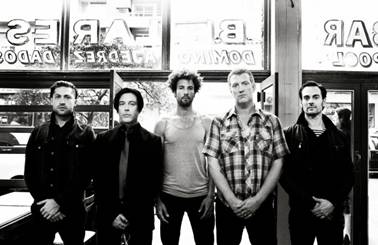 QOTSA
Vinkovačkim Punčkama pripala je velika čast da sviraju prije QOTSA i to na Križankama, jednom od najljepših koncertnih prostora u regiji.
Punčke
su tri djevojke - Lucija Ivšić (gitara, glas), Ena Baćanović - Ruby (bubnjevi) i Anja Tkalec (bas gitara). Bend je osnovan 2007 i do sad su doživjele promjene koje su njihovu glazbu učinile jačom i boljom. Iako još nisu odlučile u koji glazbeni pravac bi se svrstale jer je svaka pjesma jedinstvena i pod različitim utjecajima, publika ih opisuje kao alternativni / indie rock bend s daškom Television, Patti Smith, Sonic Youth, Blood Red Shoes, White Stripes.... Njihov debi album
Sunčano s povremenom naoblakom
izdan je krajem 2013. te je odlično prihvaćen od publike i kritike i uskoro je postao dijelom svake Best of liste albuma.
Cure su do sada održale oko 200 koncerata, a među najvažnijima su oni na Jelen Demofestu, INmusic Festivalu i Terraneo Festivalu.
Queens of the Stone Age - I appear missing
edi // 30/05/2014