Zahvaljujući blagodatima interneta došli smo u priliku malo prije službenog izlaska poslušati nove Queens of The Stone Age. I što reći? Pa za početak da smo svi skupa dobili još jedan veliki argument da se ne propusti Radar Festival. "Era Vulgaris" je nakon par slušanja zasigurno jedan od najboljih Josh Homme-ovih albuma, iako možda on i nije
klasičan Queens Of The Stone Age album. Era Vulgaris je poprilično škripav i raštiman, močvarne produkcije, ali ipak uspjeva u tome da odlično zvuči. Sasvim je moguće da se on neće odmah svidjeti hard core fanovima a i nama ostalima će trebati neko vrijeme da se
na njega naviknemo ali mislim da vrijedi truda.
Na žalost, na albumu nema pravih hitova kao što su recimo bili "Little Sister" ili "Lost Art Of Keeping a Secret" pa su tako najpop pjesme na albumu "Make it wit chu" preuzeta sa "Desert Session"-a, te prvi single "3's and 7's".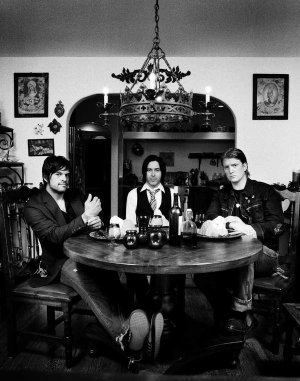 Queens Of The Stone Age
Ono što mi najviše nije jasno je zbog čega je s albuma izbačena izvrsna naslovna pjesma "Era Vulgaris" na kojoj gostuje ni manje ni više nego Trent Reznor a ostavljena je zato bezrazložna buka "Battery
Acid" ali eto što se može.
U svakom slučaju, više nego solidan album vrijedan da se posluša više puta (uostalom, nije da Josh Homme ionako može napraviti nešto loše)! Vidimo se na Radaru!
ocjena albuma [1-10]: 7

kris // 28/05/2007