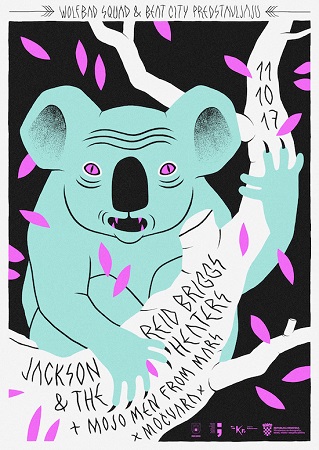 Daleko je Australija, toliko daleko da se neki australski band do Zagreba dotepe u prosjeku svakih 10-ak godina. A poznato je da, barem što se tiče punka s okusom rock'n'rolla, najbolji, najuvjerljiviji, najautentičniji, najiskreniji, najintenzivniji, najnepretenciozniji i još svašta naj bandovi niču upravo tamo, na dnu svijeta. Uzrok tome bi se možda mogao potražiti negdje daleko u prošlosti, u samim začecima australske države kao kažnjeničke kolonije, kad su se za preživljavanje na tom negostoljubivom kontinentu borili gadni tipovi kakve ionako nitko nigdje ne bi rado ugostio. U takvim uvjetima bilo kakvo preseravanje jednostavno nije prolazilo, a sudeći po svetom australskom punk slijedu Saints-Radio Birdman-Scientists-Cosmic Psychos-Hard-Ons, ne prolazi ni 200 godina kasnije!
Jackson Reid Briggs
novi je kralj nepreseravanja iz Melbournea. Već i samo njegovo ime i faca mogli bi se bez problema zamisliti na nekoj potjernici iz 19-og stoljeća, a raštimane country-punk ode potraćenim zivotima i mamurnim jutrima koje izvodi sa svojom bandom The Heaters glazbeni su ekvivalent pivske pljuvačke u vrelom pijesku. Mi im možemo samo reći hvala što su na ovom touru odlučili navratiti do 16 000 kilometara udaljenog Zagreba! Cheers mates!
Mojo Men From Mars
nisu iz Australije, a bome nisu ni s Marsa, makar bi po njihovom imenu to bilo logično zaključiti. Ne, ovi frajeri dolaze iz rubnih dijelova Zagreba i misle da sviraju fini rock'n'roll 50-ih dok ustvari razvaljuju najzmazaniji punk u gradu!
Uskoro objavljujemo više informacija o ulaznicama u prodaji.
promo girl // 05/10/2017