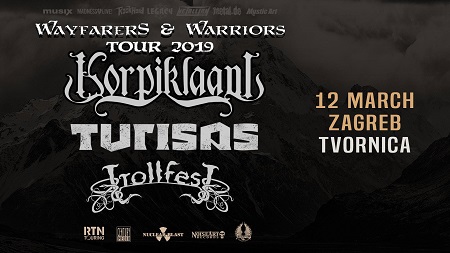 U sklopu turneje "Wayfarers & Warriors Tour 2019" u Tvornicu kulture stižu finski folk metal bendovi Korpiklaani i Turisas u kojoj ih prati norveški Trollfest. Korpiklaani će na turneji promovirati album "Kulkija" kojeg su izdali prošle godine. Turisas su zadnji album objavili 2013. pod nazivom "Turisas2013" što znači da nam dolaze sa best of set listom dok će Trollfest predstaviti ovogodišnji album "Norwegian Fairytales".
Prodaja ulaznica (pretprodaja 190 KN, na dan koncerta 215 KN)
> Entrio.hr i prodajna mjesta
> Hardtickets (Zagreb): DIRTY OLD SHOP - Tratinska 18, ROCKMARK - Berislavićeva 13, VALHALLA - Radićeva 25
TURISAS comments on the tour: "It's been long since we've last toured Europe properly and couldn't be more excited to get back on the stage and vent off some of the cabin fever built up by years of research and songwriting for a new album. And what would be better than going out on a double headline tour with our dear friends and countrymen KORPIKLAANI! It's really strong and diverse package you definitely shouldn't miss. See you at the shows!"
Jonne from KORPIKLAANI, who released their new album, "Kulkija", says: "'Kulkija' has many stories about Wayfarers or Wanderers and it somehow fits so nicely with the good feeling theme on the album, to go on tour with people who we consider friends. The Warriors in TURISAS and the Balkan Kaos of TROLLFEST will be so good, many good memories and stories will be told."
TROLLFEST on joining the tour: "It's been way too long since we shared the stage with TURISAS, and we still cry like baby girls when we think of the previous tours we did with our lovers in KORPIKLAANI! Meeting old friends — check! Making new friends — check! New music — check! New costumes — check! More madness — check! More beer, booze & alcohol?! We'll see... Any way you look at it; this tour combines heavy music, madness, balkan, hompa, trolls, warriors, shamans and orcs in the best way possible!! Prepare yourself, because maximum metal showers (of love) is coming your way!!!"
(VIR: BLABBERMOUTH.NET)
SATNICA:
Vrata/Doors 18.00
Trollfest 18.30
Turisas 19.45
Korpiklaani 21.45
FACEBOOK EVENT:
www.facebook.com/events/2150938338253623/
terapija // 05/03/2019