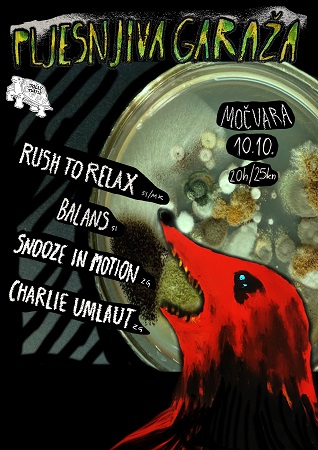 U zadnje vrijeme je moda raditi svirke s puno bendova i s malo članova istih bendova. Kako treba pratiti trendove, i mi smo se potrudili napraviti večer s čak 4 benda, a samo 7 svirača. Da bi ova večer bila posebna, složili smo vam nešto što se ipak ne viđa svaki dan (ili svaku večer). Kuriozitet ove svirke je u tome što niti jedan bend ne dijeli članove s drugim bendom. Da, dobro ste čuli! Svaki od svirača svira tek u jednom bendu. Bit će tu i neke glazbe. Garage, lo-fi, rock and roll, post-punk i tako to.
balans (Ljubljana)
Mračni i pomaknuti post-punk/experimental duo koji pjeva na slovenščini.
Rush to relax (Ljubljana/MK)
Jednočovječna rabota koja sviruva na garažniot rock'n'roll.
Charlie Umlaut (Zagreb)
Domaći new wave/synth-punk trio na domaćici.
Snooze in Motion (Zagreb)
One man rock 'n' roll/garage band mostly in english.
Upad: 25 kn
FACEBOOK EVENT:
https://www.facebook.com/events/346491779565552/
promo guy // 02/10/2019