U nas već dosta poznati austrijski NUKE festival koji se održava u St. Pöltenu (60tak km zapadno od Beča), ove godine nam donosi pravu koncertnu deliciju na dva stejdža, što za svačije ukuse, što za sladokusce!
Naime, line up između ostalih uključuju imena kao što su Beastie Boys, The Prodigy, Die Fantastischen Vier, Calexico, Amy Winehouse, Kosheen, Wir Sind Helden, The Roots, Lambchop, Senor Coconut i Tinariwen - prestrašno!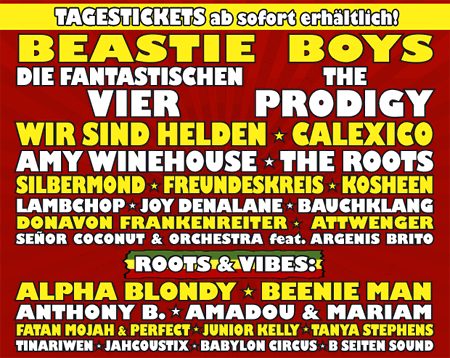 ovogodišnji NUKE line-up
Ulaznice za oba dana su 75€, a za jedan dan 55€, a
na službenom sajtu je najavljeno
da će se moći nabaviti i preko
našeg Eventima
.
sale // 23/05/2007