čet/Thu, 22.07.2010.
Mainsplash stage:
HIGH TONE (F)
LAS BALKANIERAS (BiH, Hr, Rus, D)
BEETAN TONE (Hr)
Soundsplash stage:
RSD (UK)
DJ TWELVE (F)
UPLIFTMENT INTL (D)
Dr. RUS (Hr)
Electrosplash stage / in dubstep, breakbeat & wobbly basss by DUBstep KLUB crew:
LED PIPERZ (F)
TEDDY LEE (Hr)
JAN BECELE (Hr)
BAMSTER (Hr)
pet/Fri, 23.07.2010.
Mainsplash stage:
LUTAN FYAH (JAM) + High Grade Band (H)
SMITH & MIGHTY feat. MC Joe Peng (UK)
ELVIS JACKSON (Slo)
BAMWISE (Hr)
Soundsplash stage:
EXODUS (UK)
KLUB SIR3NE SHOWCASE (A)
DJ CHATKO (Hr)
RAUL (Hr)
Electrosplash stage / drum'n'bass & breakcore:
Drum'n'bass by Samo da je dramenbejs kolektiv
DJ CRAFTMAN, MC FRIKK D LIKK, MIROMAN (Hr)
VJ/graphics SHROOMS & ZOO MOUTH
breakcore by Brain Decay:
DISBREAKZ (Hr, D-Trash Records)
JIGEN (Hr, Pistolero)
DEMONAUT&BREAKOMORA (Hr, Brain Decay)
visuals 'n' deco by BrainDecay crew.
sub/Sat, 24.07.2010.
Mainsplash stage:
IRATION STEPPAS (UK)
GENTLEMAN'S DUB CLUB (UK)
ST!llness (Hr)
POSTOLAR TRIPPER (Hr)
Soundsplash stage:
KANDŽIJA (Hr)
OLI DOBOLLI (Hr)
DANNY BWOY (Hr)
DJ D-GREE (Hr)
Electrosplash stage / in nu-disco electro techno by Sirup club:
SERGEJ (Sirup, Homemade, Burek)
ARSZENIK (Sirup, Hartera)
DJ ZERT IOP (I)
VJ LADYBOME!
Čet-Sub/Thu-Sat, 22.-24.07.2010.
DUBSPLASH STAGE
- hosted by DIGITRON SOUNDSYSTEM (hr)
- novi festivalski stage / new festival stage, strictly roots & dub in original soundsystem scoops style
- sa sljedećim gostima po danima / with the following guests by dates:
Čet/Thu, 22.07.2010. - CHANNEL ONE SOUND SYSTEM (UK)
Pet/Fri, 23.07.2010. - WEEDING DUB (F)
Sub/Sat, 24.07.2010. - DIGITRON SOUND SYSTEM (Hr)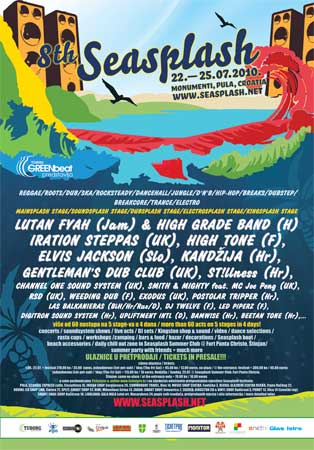 KINGSTON SHOP & SOUND
- hosted by KINGSTON SOUNDSYSTEM (hr) via dancehall reggae roots rub a dub soca grime jungle inna dj/mc & soundsystem style
- Nenajavljeni gosti i sessioni svake večeri festivala! Morate prisustvovati uživo da bi čuli i vidjeli! / Unannounced guests & sessions during every night of the festival! You have to be there to see and hear this!
Ned/Sun, 25.07.2010. - closing party & last chance 2 dance @ Seasplash Summer Club / Fort Punta Christo, Štinjan
by SEASPLASH CREW + drugi ekskluzivni gosti / other exclusive guests!
Mainsplash stage visuals/VJ-ing by Trip to Zion video
voditelji programa / master of the ceremony POPAY MC & MC CHAKKA
tokom dana / during the day:
- Seasplash BMX session!
čet/Thu, 22.07.2010. u poslijepodnevnim satima na ulicama Pule / in the afternoon on the streets of Pula
- Cirkus za svakoga by Čarobnjakov šešir (žongliranje, štuliranje i glupiranje) / Circus For Everyone by Wizzard's Hat (juggling, walking on sticks and fooling around) - www.carobnjakov-sesir.hr
- Rasta Cups
(prijave na festivalskoj lokaciji / applications at the festival)
Seasplash brod plovi neprestano od pulske rive do festivalske lokacije!
Seasplash boat continually floats from Pula port to the festival location!
- free camping with the festival ticket and your own camping gear
- different accommodation facilities around the festival area (campsites, hotels, hostels, apartments)
- arriving airport in Pula or other in the area (Croatia: Rijeka, Zagreb, Italy: Trieste, Venice, Slovenia: Ljubljana)
cijene ulaznica / tickets:
1.06.-22.07. = festival 270,00 kn / 35,00 euros / 32,00 gbp
jednodnevna (čet-pet-sub) / 1day (Thu-Fri-Sat) = 95,00 kn / 13,00 euros / 11,00 gbp
na ulazu / @ the entrance: festival = 300,00 kn / 40,00 euros / 35,00 gbp
jednodnevna (čet-pet-sub) / 1day (Thu-Fri-Sat) = 115,00 kn / 16 euros / 14 gbp
Nedjelja / Sunday, 25.07. @ Seasplash Summer Club, Fort Punta Christo, Štinjan: samo na ulazu / at the entrance only = 70,00 kn / 10,00 euros / 8,00 gbp
- u svim poslovnicama Ticketpro-a,
tickets available online http://www.ticketpro.hr
- i na sljedećim ovlaštenim pretprodajnim mjestima Seasplash festivala:
PULA: SCANDAL EXPRESS caffe, Ciscuttieva 15, INDIAN SHOP, Sergijevaca 26, COMMODORE TRAVEL, Riva 14, MUSIC SHOP CENTAR, Fontička 3, RIJEKA: GLAZBENI CENTAR RIJEKA, Frane Račkog 22, ROVINJ: CD SHOP LINK, Carera 72, SPLIT: SMART SHOP ST. DIMI, Mihovilova širina 13, ZADAR: SMART SHOP, Stomorica 2, ZAGREB: KINGSTON CD & VINYL SHOP, Radićeva 3, PUNKT 13, Ilica 14 (Lovački rog), SMART SNAIL SHOP, Kačićeva 10, LJUBLJANA: GALA HALA Letni vrt, Masarykova 24
promo guy // 14/07/2010