U petak 27. studenoga će se u zagrebačkoj Jabuci u sklopu programa Dark Side održati večer posvećena post-punk/dark/industrial legendama Killing Joke i to povodom promocije njihovog novog albuma
"Pylon"
.
Killing Joke su svoj rad započeli 1980. godine i slove za jedan od najoriginalnijih i najutjecajnijih rock grupa svih vremena. Svoj put su počeli kao post punk band, na svojem petom i ujedno najuspješnijem albumu "Night Time" iz 1985., na kojem se nalazi njihov najveći hit "Love Like Blood" su uplovili u dark rock vode. 1990. s albumom "Extremities, Dirt and Various Repressed Emotions" skreću u industrial noise vode, na idućem albumu "Pandemonium" 1994. unose teške metal rifove i elektroniku, na albumu "Killing Joke" 2003. godine svira bubnjeve Dave Grohl iz Nirvane i izjavljuje kako mu je to bila posebna čast.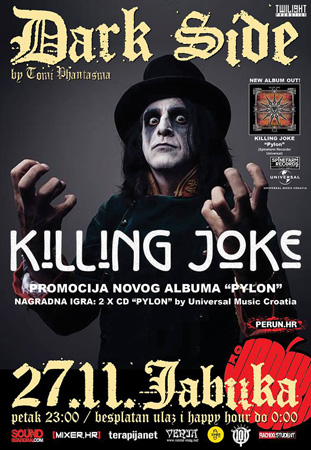 Novi, petnaesti po redu studijski album "Pylon" donosi deset novih pjesama na regularnom i petnaest na duplom deluxe izdanju. Album je tipičan Killing Joke album koji prolazi iz najranije post punk faze, ukljućuje dark fazu, a sve upakirano u noise produkciju. Zanimljivo je da je "Pylon" nakon samo dva tjedna od objavljivanja dospio do prvog mjesta oficijalne britanske top liste albuma što se nije dogodilo još od albuma "Night Time"! Ukratko svi su poludjeli za novim albumom i Killing Joke su ponovo u centru pažnje u svijetu rockenrolla, i iako su po godinama pred penzijom Killing Joke su najboljoj formi. Sa albuma su do sada skinuta dva singla "I'm The Virus" i "Euphoria" koja su oba postigla velik uspjeh.
Nakon preslušavanja albuma "Pylon" slijedi projekcija koncerta Killing Joke na videu i preslušavanje retrospektive njihovih radova. U 01 sat iza ponoći će uslijediti izvlačenje dva dobitnika koji će osvojiti primjerak novog albuma Killing Joke "Pylon", a koji poklanja distributer za Hrvatsku, Universal Music Croatia. Za učestvovanje u nagradnoj igri je potrebno uzet kupon za nagradnu igru prilikom kupnje pića na šanku kluba.
Nakon Killing Joke seta slijedi Dark Side party gdje će Tomi Phantasma vrtit sve mračne hitove od osamdesetih do danas; Bauhaus, The Cure, Siouxsie & The Banshees, David Bowie, Iggy Pop, Red Lorry Yellow Lorry, The Cult, Christian Death, The Sisters Of Mercy, Fields Of The Nephilim, Virgin Prunes, Mizar, EKV, Clan Of Xymox, Cassandra Complex, Echo & The Bunnymen, Pixies, Violent Femmes, Nick Cave, Jesus & Mary Chain, The Cramps, The Smiths, Depeche Mode, Ultravox, Simple Minds, Human League, Video Sex, Soft Cell, Laibach, DAF, Nitzer Ebb, Die Krupps, Front 242, Borghesia, Diva Destruction, Roseta Stone, Heroes Del Silencio, Nine Inch Nails, Marylin Manson, Placebo, London After Midnight, Editors, Love Amongst Ruin, Interpol, Covenant, White Lies,...
Vrata Jabuke se otvaraju u 23 sata, do ponoći je ulaz slobodan i happy hour na šanku, a nakon ponoći se ulaz plaća 20 kn.
Dobrodošli!
promo guy // 18/11/2015