Nakon vrlo uspješne "ljetne sheme"
80's Party
u petak 13. studenog ponovno kreće sa programom na dva flora zagrebačkom Boogaloo Clubu. Na programu će biti
Pet Shop Boys
warm up u susret
predstojećem koncertu u zagrebačkoj Areni 29.11.
Također će se održati promocija njihovog novog albuma "Yes" (Dallas Records) pa će se tako na velikom video platnu održati projekcija Pet Shop Boys video radova. Na nagradnoj igri će biti podijeljene dvije ulaznice za koncert Pet Shop Boys i 3 albuma "Yes". Pored toga će na programu u velikoj dvorani rezident DJevi Tomi Phantasma i Marin vrtjeti video i audio presjek najvećih sinthy pop, pop i new wave hitova iz osamdesetih, poput Depeche Mode, Simple Minds, OMD, Soft Cell, New Order, Yazoo, Dead Or Alive, Eurythmics, Tears For Fears, Alphavile, A-Ha, Madonna, Kim Wilde, Cindy Louper, Denis & Denis, Pet Shop Boys, Video Sex, Ultravox, Adam & The Ants, Billy Idol, David Bowie, PIL, Talking Heads, The Police, Blondie, Madness, Ramones, Buzzcocks, The Clash, Iggy Pop…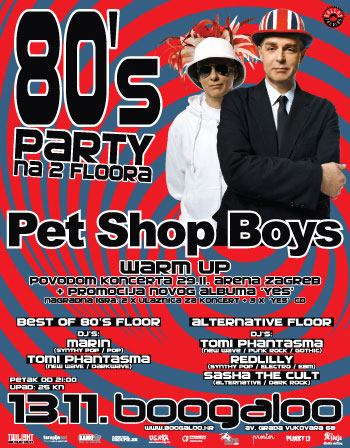 U manjoj dvorani će biti alternativnija strana osamdesetih gdje će Tomi Phantasma, RedLily i Sasha The Cult vrtiti hitove frupa Jesus & The Mary Chain, Echo & The Bunnymen, The Smiths, Pixies, Nick Cave, Front 242, Ultravox, Simple Minds, Depeche Mode, Nietzer Ebb, DAF, Die Krupps, Laibach, Borghesia, Christian Death, Siouxsie, Joy Division, Bauhaus, Killing Joke, The Cure, The Sisters Of Mercy, The Cult, EKV, XTC, Ramones, The Clash, Iggy Pop, Madness, Killing Joke, Mizar, ….
THE BEST OF 80'S FLOOR:
DVD projekcije:
Pet Shop Boys
DJs:
MARIN (sinthy pop, pop)
TOMI PHANTASMA (new wave / punk rock / dark rock)
ALTERNATIVE 80'S FLOOR:
DJs:
RED LILLY (sinty pop / electro /emb)
TOMI PHANTASMA (new wave / punk rock / gothic)
SASHA THE CULT (alternative / dark rock)
Početak u 21:00
Cijena ulaznice: 25 Kn
promo guy // 05/11/2009