Kultna američka grupa započela je s radom krajem osamdesetih, da bi se široj publici predstavila tek albumom "Deserter's Song" iz 1998., tj. hitom Tonite it Shows. Kao i mnogima, i meni je njihov prvi album "Yerself is Steam" bio preteško experimentalno djelo, koje je zahtijevalo puno više od pukog slušanja. U to vrijeme na to nisam bio spreman, pa sam ih ostavio po strani. Tek na sljedećem, "Boces" dao sam im novu šansu.
Ispostavilo se da je "Boces" bio malo prijemčiviji, pa je imao i dvije značajne pjesme Meth of a Rockette's Kick i Something for Joey, za tu godinu, a i općenito za njihovu karijeru. No, ni tada se nije ništa puno pomaklo s mjesta, kao ni po izdavanju trećeg albuma. To je dovelo do raspada prvotne grupacije glazbenika, pa od onda nadalje jezgru benda čine Jonathan Donahue (vokal i gitara) i Sean "Grasshopper" Mackowick (gitara), dok se David Fridmann bacio u ilegalu, odn. za strojeve ispred ili iza benda.
Trebalo je tri godine, da spomenuti dvojac okupi dobru ekipu, da potpišu za V2 i objave hvaljeni "Deserter's Song". Otada je išlo sve glatko. MERURY REV prebačeni su maltene u mainstream, a Fridmannove produentske usluge potražili su mnogi (THE FLAMING LIPS, LUNA, WEEZER, JANE'S ADDICTION...).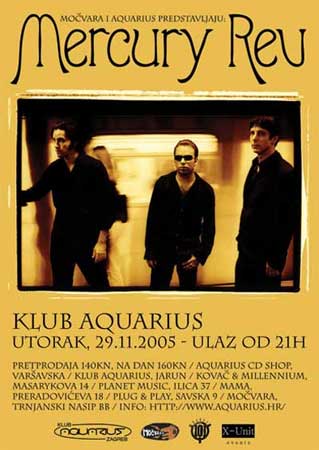 "Deserter's Song" je s Tonite it Shows, Goddess on a Hiway, Opus 40 i Holes naprijed i ostatkom albuma kao oličnim backupom, pobrao sve što se te godine pobrati moglo. No to je donijelo da se od nasljednika mnogo očekuje. "All is Dream", iako strašno dobar album, nije uspio u dostizanju slave prethodnika. Na njemu su pjesme posložene kompaktnije, i djeluju ko cjelina, pa stoga nije ni bilo nekih koje bi odskakale u kvaliteti, a to je dovelo do nepostojanja nekih izrazitih radiofoničnih hitova.
Ko da ih je to malo usporilo, ko da su se željeli odmoriti, pa se na "Secret Migration" čekalo skoro 4 godine. Ovogodišnji album pravo je malo remek djelo, a mi smo pravi sretnici što ćemo MERURY REV vidjeti upravo na turneji kad promoviraju ovaj album.
Stoga, Močvari i Aquariusu još jednom hvala, a sada svi po karte i 29/11 kolektivno u Aquarius.
Diskografija:
Yerself is Steam (1991)
Boces (1993)
See You On the Other Side (1995)
Deserter's Song (1998)
All Is Dream (2001)
Secret Migration (2005)
pedja // 21/11/2005
PS: PRETPRODAJA ULAZNICA:
Aquarius Cd Shop, Varšavska; Klub Aquarius, Jarun; Kovač & Millennium, Masarykova 14; Planet Music, Ilica 37; Mama, Preradovićeva 18; Plug & Play, Savska 9; Močvara, Trnjanski nasip bb
upad u pretprodaji: 140 KN, na dan koncerta na blagajni kluba: 160 KN