אנחנו שמחים להודיע על שלוש הופעות של המולטי-אינסטרומנטאליסיט המבטיח ג'ון 3:16 (פיליפ ז'רבה) - שניה לפני המעבר משוויץ לארה"ב.
לאוהבי פוסט-רוק / אמביאנס / ואינדסטריאל מהזן האיטי והמדיטטיבי - הינה הזדמנות לשמוע קול מעניין הישר מהאלפים השוויצרים שניה לפני שהוא מעביר את הבסיס האומנותי שלו לחצי השני של העולם.
ב2012 יצא הדיסק האחרון של ג'ון 3:16 הנקרא
Visions of the Hereafter - לינקים למטה.
הדיסק נע בין טראקים מהורהרים של אמביאנס-רוק שוגייזי עד למומנטים חזקים של פוסט-רוק על רקע חטיבת קצב תעשייתית רועש.
במיוחד לכבוד ההופעה בישראל הכין לנו פיליפ סט אקסטרה אקספרימנטאלי של טראקים קיימים ואף של טראקים שלא נשמעו מעולם.
It's gonna be Dronish.
ובנוסף, את הפוסטר למאורע הכין וויליאם שאף - שעבד בין השאר עם
Godspeed you! black emperor
כמובן, ואף עיצב את הדיסק האחרון ג'ון 3:16
מחיר כניסה: 40 שקל - כי אנחנו אוהבים אתכם.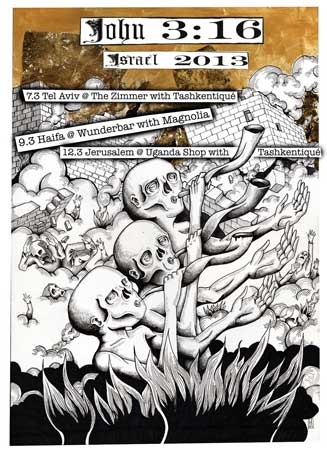 7.3
הצימר, תל אביב
+Tashkentique
יהיה וידאו ארט לפנים
9.3
ונדרבר, חיפה
+Magnolia !!
יהיה כבד אחושילינג
12.3
אונדה, ירושלים
+Tashkentique
נשארים עד הבוקר ומטאטאים את הרחוב
----------------------------------------------------
הינה כמה ביקורות על החדש - ולאחר מכן לינקים -
"...There's a certain shoegazing aspect of the record looking to send the listener upward, tugging against the sombre inward reflection to haul the listener toward the skies on waves of distorted melody. Quite how the album defies physics and achieves both simultaneously is perplexing to say the least..."
Rock-A-Rolla (UK)
"...It is hard to truly explain an album such as this in words, as it is honestly an emotional voyage. It is designed to make you feel things and create your own message, rather than ingest the ideas of the artist. It is refreshing to hear music without context. It is a beautiful and moving experience..."
Sludge Factory (Australia)
promo guy // 09/02/2013