Tickets OETICKET:
https://www.oeticket.com/top-events/?affiliate=O50
Tickets RESERVIX:
https://sbamfest.reservix.at/events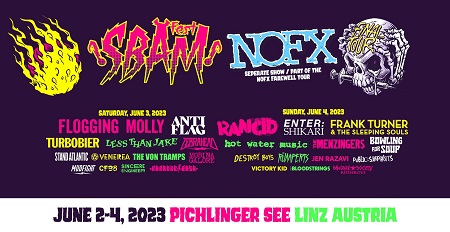 Austria's biggest punk rock festival is coming back. Bigger, better and with even more side action. Loosely based on the theme "Welcome To Paradise,"
SBÄM Fest
will rock the Pichlinger See from June 2-4, 2023 with more than 25 international acts like
Rancid, Flogging Molly, Frank Turner And The Sleeping Souls, Turbobier, Less Than Jake, Hot Water Music, Anti Flag, The Menzingers, Bowling For Soup, Stand Atlantic, Destroy Boys
, and many more.
NOFX
are calling it quits - that sucks big times but the good news is, they're playing 40 cities before that - and fuck yeah, one of them is Linz! So that's the very last time they're gonna hit Austria (ever)! Of course they're also gonna bring a bunch of friends to celebrate their farewell - so stay tuned for more bands to come! Along these lines … thanks for all the shows!
Apart from the music we offer tons of stuff you can enjoy - like skateboarding, art shows, tattoo alley, e-sports and much more. And all of this in a great environment - in the middle of nature - with camping and swimming possibility.
- Music
- Camping
- Sports
- Art Shows
- Tattoo Alley
- Street Food
FACEBOOK EVENT:
https://www.facebook.com/events/1787055841652349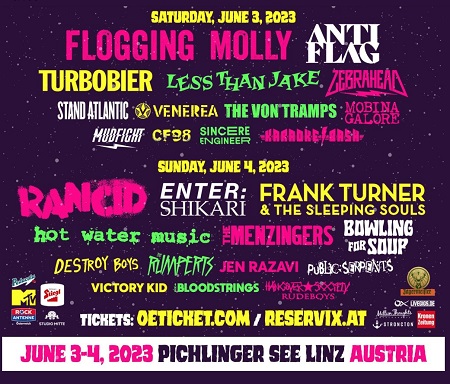 promo girl // 28/05/2023