(u Prodaji od 18.04.2006)
Iako dugo ocekivano 11 dugosvirajuće izdanje ove kultne skupine iz L.A. nije opravdalo zahtjevna očekivanja fanova - NOFX su opet oduševili, ako ništa drugo dubinom svojih tekstova. Nakon politički nabrijanog albuma "the war on Errorism" i angažmana u kampanji "Rock against bush" Fat Mike, pjevač i tekstopisac (ujedno i vlasnik Fat wreck chordsa), je odlučio napisati manje angažiran album. No nažalost Fat mikeu to nije pošlo za rukom jer upravo kroz naoko glupave tekstove iskritizirao američko društvo na samu njemu svojstven način.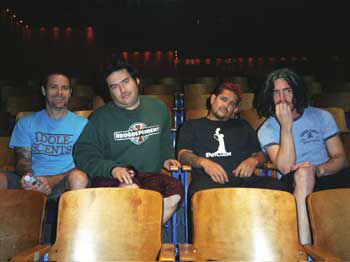 No nažalost ova ploča ima i drugu strane priče - onu muzičku - koja me nije na prvo slušanje uopće nije privukla, čak dapače, više sam razmišljao o promjeni producenta koji je ipak uspio zadržati prepoznatljivi zvuk starog producenta, Ryan Green-a. Novi producent došao je u vidu Billa Stevensona - čovjeka koji je odsvirao i isproducirao 150 albuma vrhunskih punk albuma kao što su albumi Descendentsa (Čiji je član od početaka), Black flaga, The casualtiesa i MxPxa. Kao što sam već spomenuo - muzički ovaj album ne donosi ništa revolucionarno, čak dapače veoma je sličan prošlom uz minorne dodatke koketiranja sa dub/post punk nepravilnim ritmičkim mjerama. Zvuk i žanr ovog albuma teško bi mogli strpati u neke normalne okvire - no istina je da NOFX na ovom albumu nije napravio ni jednu uspješnicu kao što su "Linoleum", "don't call me white" ili uostalom cijeli "I heard they suck live" album.
Kako stvari sada stoje - NOFX čini se producira albume koji će se svidjeti samo NOFX prvoborcima koji brane svoje idole bez obzira na produkt i nekim novim klincima koji vjerojatno nisu čuli što je to "Ribbed" ili "Punk in drublic".
Citat iz press releasea:
Beinf NOFX is easy. There is nothing easier than beeing an alcoholic in a punk rock band. We didn't start out being alcoholics - but we're definitley gonna finish that way"
Favorite lyric line:
"I scored an extremely rare signed copy of the communist manifesto,
We protested the G8, got maced by female police
In hot black uniforms and boots
I got one's e-mail address"
Track lista
01. 60%
02. USA-holes
03. seeing double at the triple rock
04. we march to the beat of of indifferent drum
05. the marxist brothers
06. the man i killed
07. benny go blowed up
08. leaving jesusland
09. getting high on the down low
10. cool and unusual punishment
11. wolves in wolves' clothing
12. cantando en espanol
13. 100 times fuckeder
14. instant crassic
15. you will lose faith
16. one celled creature
17. doornails
18. 60% (reprise)
maxse // 06/05/2006
PS: PS. Hrvatski se zastupnik ovog albuma još ne zna, no ukoliko to saznamo - nadopuniti ćemo ovu recenziju.