Five albums and ten years of hard work for shoegaze band from Estonia to get on our web site with their best work 'till now...
Where are you now and what are you doing?
At the moment we are back home, living our everyday life, chilling at home and having fun. It is beautiful autumn here, time to harvest. Soon we will start rehersing sessions.
What does Pia Fraus means?
First we thought that it´s fun to make up some lie or myth about the name, cos almost every journalist ask that question. We thought it would be funny to watch and hear where will it lead. But for some reason we did not to it. So the name came from a dictionary. Nothing mysterious. We needed a name and we had few options and decided that Pia Fraus suits us the most. Simple as that.
A brief history of how the band started?
Modestly said, Pia Fraus is flagship group of Estonian shoegaze rock and indiepop. No surprise, as they have fans all over the world and are well-loved in Estonia. Pia Fraus started in 1998 in Tallinn, Estonia when six art school students (Kärt Ojavee, Kristel Loide, Rein Fuks, Tõnis Kenkmaa, Reijo Tagapere and Joosep Volk) came together. First gig was in spring 1999. After some concerts they started recording their first album (Wonder What It's Like) which was released in spring 2001 by themselves. Then they sent some demos to different labels and next full length album (In Solarium) was released under Clairecords (USA) in summer 2002. Kristel left the band and Eve Komp replaced her. In autumn 2003 Clairecords released Plastilina EP which included tracks from Wonder What It's Like. Before that Margus Voolpriit replaced Joosep. At the beginning of 2004 Vinyl Junkie released In Solarium with bonus tracks in Japan. In September later that year Mooie Island EP was released under their own label SekSound. In spring 2005 Vinyl-Junkie Recordings released compilation CD "Sailing On A Grapefruit Lake" in Japan which also includes two videos. Winter 2006 saw the birth of Pia Fraus' next LP "Nature Heart Software" released by Seksound. In 2008, working with Teenage Fanclub's Norman Blake as producer, Pia Fraus released fourth album
"After Summer"
. Also remix compilation "Ten Remixes of Yenissey" and split-single on 7" vinyl with Ulrich Schnauss were released by Seksound in summer 2008. The band has shared the stage with artists like Ulrich Schnauss, Animal Collective, Frida Hyvönen, Fleckfumie, Suburban Kids With Biblical Names. Pia Fraus has been remixed by Hood, Bill Wells, Guther, Miwon, Fleckfumie, Mondii, His Name Is Alive, Future Pilot Aka, Seeland, International Airport, Teenage Fanclub, 3Pead, Mirabilia, Galaktlan, Pastacas.
Tell us something about your collaboration with Norman Blake (Teenage Fanclub) on your "After Summer" album?
when we started to record "after summer", we knew we wanted to do it with producer this time, we have never worked with producers before. rein is big friends with bill wells and he asked him if he could suggest someone, and he said - norman blake. as we are all big fans of teenage fanclub we liked the idea.
during the recording session we never met with him. we have our own studio, we recorded all the tracks and sent to him by FTP. he then mixed them and sent back to us to listen. luckily norman isn't the kind of guy who insist having a last word, so sometimes there was 4 or 5 mixes until everyone was happy.
it was pretty exciting to work with someone who has a fresh wiew on your music. the result is very different of what it would've been without him. and hopefully, better.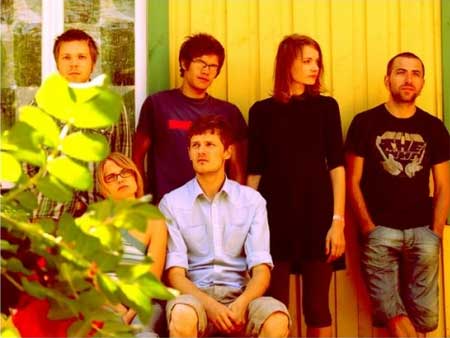 pia fraus © www.piafraus.com
Who were your influences at the start?
From old punk to new folk music (Dead Kennedys, The Clash, The Jam, The Wire, The Wedding Present, Pale Saints, Nick Drake, Syd Barret, Jim O'Rourke, Yo La Tengo, Stereolab, The Pastels, My Bloody Valentine, Red House Painters, The Pixies, Kraftwerk, The Beatles, David Bowie, The Beach Boys and many many more…)
Can you please write your favourite albums and movies of 2008?
Movies:
"Worldstar" (documentary about Miloslav Tichy),
"La Antena"
"Into the Wild"
Albums:
Soko "Not Sokute"
Windsor for the Derby "How we lost"
Cat Power "Jukebox"
Sigur Ros "Með suð í eyrum við spilum endalaust"
Tenniscoats & Secai (2008 Noble)
Tape "Luminarium" (2008 Häpna)
Sam Amidon "all is well"
Wedding Present "El Rey"
Tell us something about music scene in Estonia. I'm sure there are some other great bands!?
We have lot of bands here in any kind of genre. You name it, we got it. Like everywhere in the world and independent scene is also pretty rich. There are few small labels that carry the scene like Kohvirecords, Ulmeplaadid, Õunaviks, Umblu and our own Seksound. Nice introduction to Estonian independent music is on the
Mudamusic site
.
Pia Fraus - Chromatic Nights
PIA FRAUS DISCOGRAPHY
Albums:
Wonder What It's Like (2001 Pia Fraus)
In Solarium (2002 Clairecords)
In Solarium - Japanese release (2004 Vinyl Junkie)
Sailing On A Grapefruit Lake (2005 Vinyl Junkie)
Nature Heart Software (2006 Seksound)
Nature Heart Software - Japanese release (2006 Vinyl Junkie)
After Summer (2008 Seksound, Clairecords)
After Summer - Japanese release (2008 Vinyl Junkie)
Singles & EP's:
Plastilina EP (2003 Clairecords)
Mooie Island EP (2004 Seksound)
Chromatic Nights rmx EP (2005 Kohvirecords)
Mute The Birds/Ships Will Sail 7"split Pia Fraus/Ulrich Schnauss (2008 Seksound)
Ten Remixes Of Yenissey (2008 Seksound)
Compilations:
Estonian Unsigned (2001 OperationB)
No Hidden Catch Estonian D.M. Tribute (2001 Kaleid Records)
Atlantic Flowers (2001 Clairecords/Midsummer Madness/Alison Records)
Pacific Union (2004 Clairecords/Vinyl Junkie)
Vibratsioon Vol.3 (2004 Umblu Records)
Kohalik ja Kohatu (2005 SekSound)
No Parachute, Volume 1 DVD (2005 HHBTM)
Notes From Claire (2005 Clairecords)
Kohalik Ja Kohatu 2 (2007 Seksound)
YOU CAN ORDER OUR RELEASES FROM:
Darla (USA)
Tonevendor (USA)
Stupido (FIN)
Vollwert-Records (DE)
Lasering (EST)
Mudamusic (EST)
iTunes
pedja // 27/10/2008