Legendary Dean Wareham, leader of GALAXIE 500 & LUNA, is talking, exclusively for
us
about past, present, and of course, future plans.
T. Where are you now and what are you doing?
D. I am at home in New York City, just came back today from London (where Luna played last night) and a week of touring around Spain. I am now catching up on a large volume of email.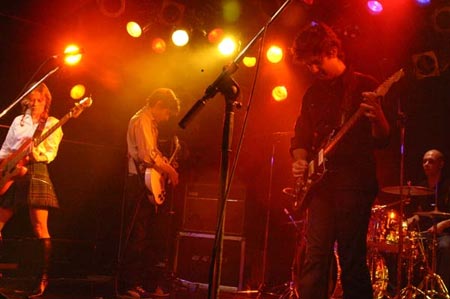 Tokyo, Astro Hall 10/15/04 © www.fuzzywuzzy.com
T. A brief history of how the band started?
D. After the demise of Galaxie 500, I made some demo recordings and was signed to Elektra Records (as a solo artist). I knew I wanted to put another band together. First I called my friend Justin Harwood (ex-member of a band called the Chills), then I heard that the Feelies had broken up, and called their drummer Stanley Demeski, whose playing I had admired for years. For a while we had Grasshopper playing with us too, but ultimately we held auditions for a full time guitarist after we finished making Lunapark. That is how we met Sean Eden.
T. Why that name?
D. There is a Woody Allen film named Sleeper, and a character played by Diane Keaton, who goes by the name Luna. That is the current story anyway.
T. What went wrong with GALAXIE 500?
D. I suppose we grew apart. Every band is a ticking time bomb, sooner or later you start to get on each other's nerves. It is difficult to be friends and business partners and collaborators and travel companions.
T. You like to play and record cover versions? Which song would you like to cover but you didn't yet?
D. "Life's a Gas" by T. Rex is one song I'm thinking about.
T. Sterling Morrison, Tom Verlaine, Laetitia Sadier, Grasshopper… are fantastic names with whom you worked. Are there any artists you would like to cooperate with and you haven't had chance yet?
D. I was thinking it would be nice to work with some older musicians, like Hal Blaine and Al Casey and James Burton (musicians who played on a huge number of records made in the 50s, 60s and 70s).
T. Why did you call your website fuzzy woozy? your best song or …?
D. Luna.com was already taken. Fuzzy Wuzzy is easy to remember and amusing, in the song the phrase seems to refer to female genitalia.
T. What do you think about new hype NY bands, like THE STROKES, THE RAPTURE, INTERPOL, etc?
D. I thought the first Strokes album was great, the second one not so great. I like Interpol ok, there are a few nice things on their first album, but I prefer the French band COLDER if I want to be reminded of Joy Division. It's interesting; a lot of these New York bands are far more popular in England than they are here. Though things can change very quickly in England. One week the music press only wants to write about New York, the next week they want to hype a new scene.
T. I've read somewhere that Rendezvous is your "final" album. If YES, what did you mean by that?
D. It is the final Luna album. We played the final Luna shows in New York City last weekend. But I will continue to make records; the next one will be a collaboration between myself and Britta Phillips (my girlfriend). We made a record called L'Avventura in 2003, which I think is the best record I've ever been involved with.
T. You appear as an actor in movie "Piggie"?
D. Yes. "Piggie" tells the story of Fannie Pogue, a pony-tailed wild child who has grown up without a mother and with little influence from her father on the family farm in upstate New York. I play Nile, a smalltime grafter as cranky and sarcastic as Fannie is strange, looking for a place to hide out. Piggie sets her tenacious heart on Nile despite his clear lack of interest, and plunges into a relentless pursuit that is hilarious, if sometimes excruciating… The other film Britta and I just did the score for is called the "Squid and the Whale". It stars Jeff Daniels and Laura Linney, and the director, Noah Baumbach, just won a prize for best director at the Sundance Film Festival. The film will be out in October.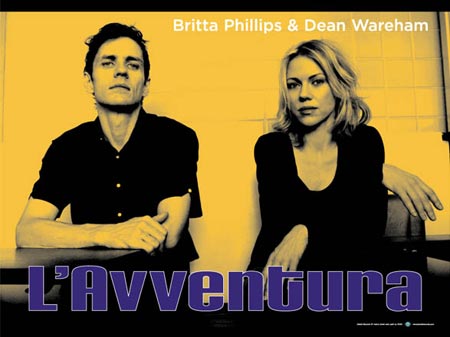 dean & britta © www.deanandbritta.com
T. Your favorite albums and movies in 2004?
D. Milk-Eyed Mender by JOANNA NEWSOME and the debut by the MIDNIGHT MOVIES (a band from Los Angeles) are probably my favorites. As for film, I thought
COLLATERAL
by Michael Mann was very stylish, I also loved CLEAN by Olivier Assayas.
T. Tell me something I would never guess about you?
D. I like to play golf?
pedja // 15/03/2005