Članovi
Britta Phillips (exULTRABABYFAT i THE BELLTOWER)
Dean Wareham (ex GALXIE 500)
Justin Harwood (ex THE CHILLS)
Lee Wall (ex CHAMPALE)
Sean Eden
Stanley Demeski (ex THE FEELIES)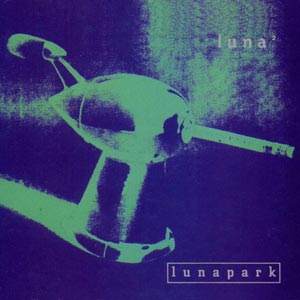 Bio
Nakon raspada kultnih GALAXIE 500 (album This is Our Music bio je proglašen za jednog od najboljih albuma u 1990.), Dean Wareham je potpisao ugovor s Elektra Records i snimio demo snimke uz pomoć bubnjara grupe MERCURY REV, Jimya Chambersa. Kako je Jimy bio full-time "zaposlen" u matičnim MERCURY REV, Dean je pozvao bubnjara Stanleya Demeskog i sunarodnjaka i basistu Justina Harwooda kako bi snimili album.
Pod nazivom LUNA 2, u ljeto 1992 izašao je album
Lunapark
prepun lijenih pop melodija začinjenih glasnim gitarama. Odlično primljene, Slide i Slash Your Tires, dale su im krila i uposlili su još jednog gitaristu. Odabir je pao na Sean Edena, studenta umjetnosti. U toj postavi snimili su Slide EP, na kojem su se uz naslovnu pjesmu našle i tri obrade (Indian Summer /BEAT HAPPENING/, Ride Into the Sun /Cale/Reed/ i Steve Wynnova That's What You Always Say).
Bewitched
, drugi album, snimljen je za 6 tjedana u njujorškom studiju Right Track i objavljen krajem 1993. Sterling Morrison (VU) odsvirao je kao gost gitare na dvije pjesme, Friendly Advice i Great Jones Street. Zbog spomenutih pjesmama, a uz Tiger Lily i Slepping Pill, taj im je album ocijenjen kao jedan najuzbudljivijih te godine, a Tiger Lily bio je među najpuštanijim pjesmama na college radijima širom USA.
Unatoč laganom kreativnom padu Deana Warehama, album
Penthouse
(1995) uvršten je među 150 najboljih albuma devetesetih prema Rolling Stoneu, a na albumu su gostovali Tom Verlaine (TELEVISION) i STEREOLAB pjevačica Laetitia Sadier. Laetitia je otpjevala duet s Deanom na obradi Gainsbourgovog klasika, Bonnie & Clyde, i pritom zamijenila originalnu Brigitte Bardot.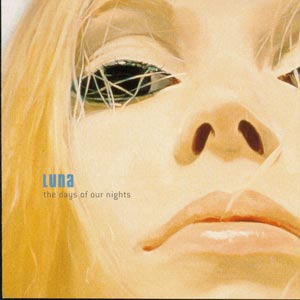 Nakon tog albuma, zasićenog Stanleya Demeskog, na bubnjevima je zamijenio Lee Wall i LUNA u toj postavi snima album
Pup Tent
(1997), pod paskom Pat McCarthya (sadašnjeg R.E.M. producenta). Nakon tog albuma, njihova izdavačka kuća, Elektra Records odbija im produžiti ugovor, pa novi album
The Days of Our nights
(1999) snimaju za jericho Records. Prekrasan album pun pop pjesama završava neobičnom obradom Sweet Child O' Mine GUNS'N'ROSES.
Iza tog albuma napušta ih i posljednji originalni član (osim Deana Warehama), Justin Harwood, koji je odlučio vratiti se na Novi Zealand. Na njegovo mjesto dolazi Britta Phillips, koja bendu daje novu energiju. S njom snimaju, možda i najbolji album -
Romantica
(2001). Album je mixan od strane Dave Friedmana (MERCURY REV, FLAMING LIPS, PC&VC). U pauzi između dva albuma Dean i Britta izdaju solo album L'Avventura (2003), a 2004. izašao je i posljednji album grupe LUNA -
Rendezvous
.
Uz sve to, Dean je glumio u nezavisnom filmu "Piggie", režiranom od Alison Bagnall ("Buffalo 66"), i prikazanom na Atlanta Film Festivalu, snimio je i dvije pjesme za film "Clean" Oliviera Assayas (s Maggie Cheung i Nickom Nolteom, s kameo rolama Trickyja, Iana Browna i Davida Robacka (MAZZY STAR) u kojima igraju sami sebe. Uz to, zajedno s Brittom radio je i glazbu za film "The Squid & The Whale," režisera Noaha Baumbacha ("Kicking & Screaming," "Mr. Jealousy," "Highball", "The Life Aquatic"), koji je u službenoj konkurenciji Sundance festivala 2005. godine...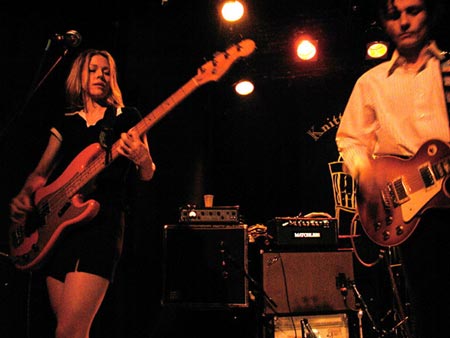 LUNA live © http://www.fuzzywuzzy.com
Diskografija
Lunapark (1992)
Bewitched (1993)
Penthouse (1995)
Pup Tent (1997)
The Days of Our nights (1999)
Romantica (2001)
Rendezvous (2004)
pedja // 03/01/2005