Toplu svibanjsku noć tog četvrtka (26. 05.) u okupljalištu ljubitelja koncertnih zbivanja - Stereo Klubbu, nemilosrdno su odlučili raspametiti zvuci glazbenika čiju osnovu čini metal glazba. Čak dva stranjska benda predstavljena su riječkoj publici, a cijelo zbivanje se odigralo pod nazivom EPIC PROBLEM #3!
Prvi bend kojeg smo imali prilike poslušati dolazi iz Italije i nosi naziv The Orange Man Theory, a svoj muzički izričaj predstavljaju kao hardcore/extreme rock/metal pržionu. Iza sebe imaju dva objavljena albuma pod nazivom 'Riding A Cannibal Horse From Here To...' i 'Satan Told Me I'm Right'. Riječkoj publici (nažalost, vrlo malobrojnoj) četvorica članova predstavila su se u žestokoj formi hardcore metala zadovoljivši pritom najizbirljivije poklonike takve vrste glazbe kojih je, opet ponavljam, bilo zaista malo, ali su zato pomno pratili cijeli nastup simpatičnih talijana.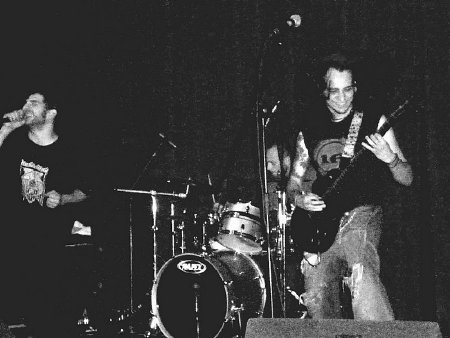 The Orange Man Theory © LuLu
Drugi bend koji nam se predstavio su Jucifer. Zapravo je to duo kojeg čine gitaristica Gazelle Amber Valentine & bubnjar Edgar Livengood (par je inače u braku, ako je to ikome bitno). Dolaze iz grada Athens (Georgia, USA) i zaista su vrlo, vrlo, vrlo ekstremno žestoki. Iza sebe imaju pregršt odrađenih koncerata i nekoliko albuma: ' Calling All Cars on the Vegas Strip', 'I Name You Destroyer', 'If Thine Enemy Hunger', L'autrichienne', 'The Lambs' EP, ' Throned In Blood ', 'War Bird'. Vjerujem da je za ljubitelje ovog ultra paklenog sludge/doom/metal muzičkog performansa - nastup Jucifera bio pravi melem za uši (a bit će da je nekome i za oči). Ovo unutar zagrada napisah, valjda, s razlogom što nemamo baš često prilike vidjeti, bolje reći-doživjeti, dominantnu žensku figuru s totalnim nedostatkom lica (dakle, kosa je cijelo vrijeme prekrivala lice), odjevenu u večernju toaletu kakve se ne bi postidjela ni Grace Kelly, a s jednom od najbrutalnije apokaliptično famoznom vještinom korištenja gitare koja može predstavljati sve - osim dosade!
Ooo, metal sceno Rijeke - pati zbog izostanka (odnosi se na sve one koji su trebali biti tamo, a nisu)!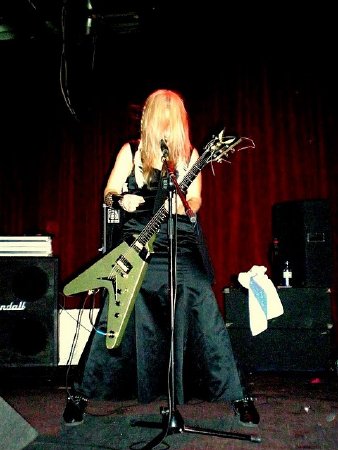 Jucifer © LuLu
sandra vučetić // 30/05/2011

> vidi sve fotke // see all photos