Mamurna dosada nedjeljne večeri. Kraj promašenog vikenda i povratak u ravnodušni automatizam radnog tjedna. Čemu sve?
Pa, radi odlaska na koncert The Entrance Banda u Mediku, naravno. Zašto baš Mediku? Rečeno mi je da spomenem da ekipa iz Attacka širi koncertni repertoar na bendove raznolikog izričaja, i da ubuduće tamo, možemo očekivati svašta.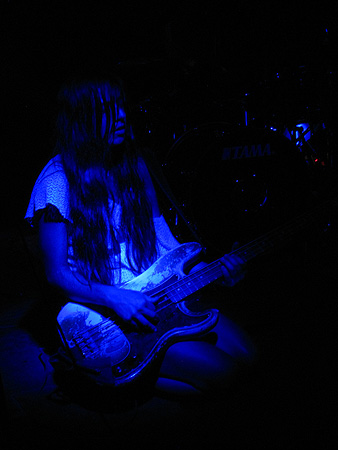 the entrance band © ana
Uglavnom, stigoh taman na početak Ruiza i ostadoh ugodno iznenađen. Ovaj trio svira nešto što izmiče žanrovskim okvirama i zvuči prvenstveno kao žestoka rokija. Uigran i uživljen bend, energija bez stanke. Dobro izabrana predgrupa za zagrijavanje prije kiselih zvukova The Entrance Banda.
Oni kao takvi ulaze u poprilično popunjenu dvoranu i uvode publiku u interesantan koncert. Recimo samo da ih je moguće klasificirati kao power trio a la Cream jer to ta virtuozna međuigra basa gitare i bubnja zaslužuje. Riječ je o psihodeličnom blues rocku koji zvuči kao da dolazi direktno iz šezdeset osme, ali modificiran paranojama nula nultih i s dovoljno reverba za surfanje po pustinji noću.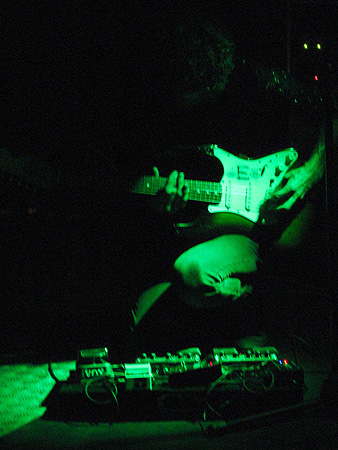 the entrance band © glass
Guy Blakeslee kao ljevoruki gitarist ima interesantan stil, sa dosta melodičnih riffova i čudnih tappinga. Ritam sekcija Derek James - Paz Lenchantin čvrsto upravlja svakom pjesmom i pruža dovoljna beata za svaki ples ili omamljeno kimanje glavom. To je onaj moment kada bend uvuče publiku u sebe, i sebe van sebe, onaj groove, dionizijsko mahnitanje, koje je odlika svakog stvarno dobrog koncerta i koji se teško može prenijeti tako ograničenim i bezveznim sredstvima kao što su riječi (pretjerivanje u raznim supstancama i magla u pamćenju igra veliku ulogu pri tome također) . To je taj moment dosegnut u par navrata na koncertu i na ekstatičnom bisu poslije. The Entrance Band su totalno razvalili tu nedjeljnu večer.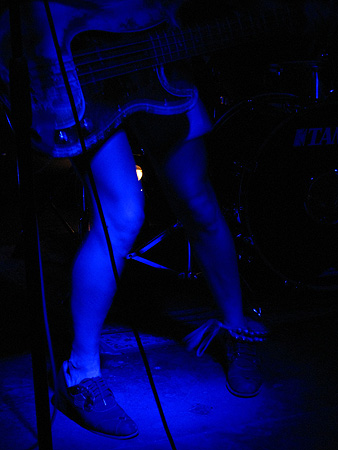 the entrance band © ana
i.r. // 24/06/2011

> vidi sve fotke // see all photos