2,5 godine čekanja na čaj od kamilice
Znam da na koncert dođeš slušati muziku i gledati band ali meni je prvi dojam počeo od publike. Veliki roditeljski sastanak sa hrpom roditelja, djedova i baka. No što očekivati kada se turneja zove 40 godina hitova i benda čije su najplodnije godine bile u prošlom stoljeću. Kasnije s dužim ili kraćim razmacima izbacivali su albume s po 2-3 hita no koncertno uvijek aktivni i zagarantirano dobra live svirka. Tko je bio na njihovim koncertima može suditi. Ja se sjećam jednog sjajnog od prije 20 g.
na istom mjestu
.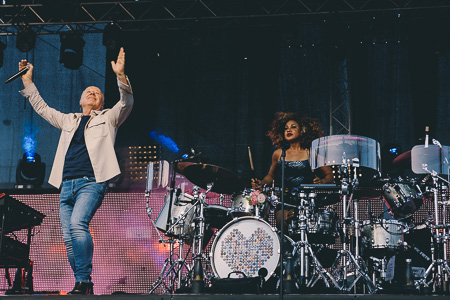 Simple Minds © Edita Sentić
Sunce je još sijalo nad Šalatom kad su u 20:25 Simple Mindsi u pomlađenom izdanju izašli na pozornicu. Izlazak je najavila pjesma Sparksa iz mjuzikla Annette - ˝So may we start˝. Nakon naklona publici krenuli su s ˝Act of love˝ najstarijom pjesmom u setu koju su Jim Kerr i Charlie Burchill izvodili još u svom prvom post-punk bandu Johnny and the Self-abusers (1977.). Ispočetka je ton bio malo čudnjikav ali se tonac izgleda uštimao od druge pjesme nadalje, iako je cijeli koncert bio nekako tih, na decibelima primjerenim penzionerima. Druga je bila ˝Love song˝ na što se publika počela razbacivati. Iza treće ˝Let there be love˝ Kerr se srdačno obratio publici.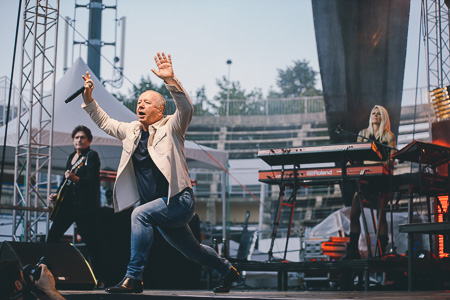 Simple Minds © Edita Sentić
Zahvalio na čekanju koncerta od 2 plus godine, rekao nam je da je dobro biti ponovno u Zagrebu, spomenuo hrvatskog nogometaša Josipa Juranovića iz Celtica i da će polako govoriti jer publika sigurno bolje zna engleski od njih jer su oni Škoti. Objasnio nam je i da je koncert podijeljen u dva djela jer rokeri moraju predahnuti i popiti šalicu… čaja od kamilice. Nastavili su živo s ˝Glittering prize˝ i ˝Promised you a miracle˝. Slijedila je ˝Book of brilliant things˝ koju je otpjevala Sarah Brown. Kerr zna izabrati dobre back vocale, a i pauzu da ne pregori prije kraja koncerta. Do kraja prvog seta čuli smo malo laganije socijalno- politički osviještene balade ˝Mandela day˝, skroz novu ˝Vision thing˝ i ˝Belfast child˝.
Simple Minds © Edita Sentić
Nakon 15-minutne pauze za …čaj, drugi dio započeli su sjajnim instrumentalom ˝Theme for Great Cities˝. Svi instrumentalisti u bandu su odlično izvježbano i uštimano odsvirali koncert, posebno se istakla Cherisse Osei na bubnjevima. Ne, nije kći Mel Gaynora ali bi bilo fora da je. Nizale su se ˝King is White and in the Crowd˝, ˝Waterfront˝, ˝She's a river˝, ˝Once upon a time˝, ˝Someone somewhere in summertime˝, ˝See the lights˝, ˝All the things she said˝ pa maratonska izvedba ˝Don't you forget about me˝.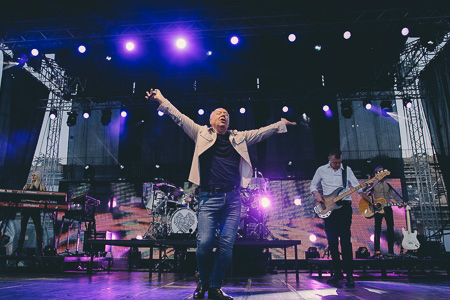 Simple Minds © Edita Sentić
Tu se publika uključila s la-la-la-la pa je Jim izveo nešto što se može opisati kao dad humor govoreći publici a sad to pjevajte na talijanskom, a sad na japanskom, a sad na hrvatskom. Iduća je bila laganica ˝Let it all come down˝ na kojoj se Jim počeo opraštati od publike samo da kaže ma ne, ne želimo mi još otići i nastavio s ˝New Gold Dream (81-82-83-84)˝. Nakon svega odslušanog prošlo mi je kroz glavu koliko je njihovih pjesama samplirano i korišteno za razne foršpane, najave i slično na našim prostorima i šire. Na bis su se vratili skoro odmah bez skandiranja publike i započeli s akustičnom verzijom ˝Speed your love to me˝ u izvedbi Sarah Brown, pjesma mi u tom obliku nekako nije sjela. Dojam se popravio sa zadnje dvije ˝Alive and kicking˝ i ˝Sanctify yourself˝ kojima je Jim Kerr laganim poskocima priveo koncert kraju, zahvalio se i pozdravio od zagrebačke publike.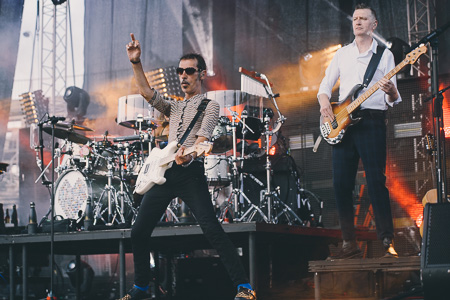 Simple Minds © Edita Sentić
Statistički gledano najzastupljeniji albumi na koncertu su bili
New Gold Dream (81-82-83-84) (1982), Once upon a time (1985.), Sparkle in the rain (1984.) i Street fighting years (1989.)
. Svirka je trajala oko 2 sata (od 20:25 do 22:45 s pauzama), čuli smo hrpu hitova (naravno neki osobni favorit uvijek preskoče), bilo je dosta interakcije s publikom (mada svugdje prodaje iste fore), odlično odsvirano (susjedi se nisu bunili na buku)
(a nit se čulo do Maksimira :-( - op. pedja)
, sve u svemu solidno value for your money… ali… svi smo doživjeli i bolje.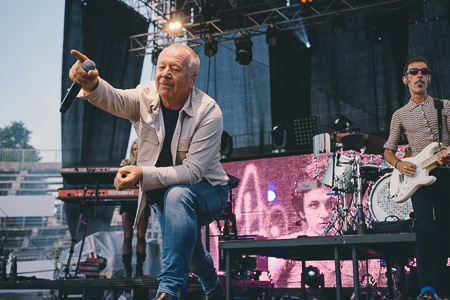 Simple Minds © Edita Sentić
nina kc // 01/07/2022

> vidi sve fotke // see all photos