Meni su Turbonegro oduvijek bili zakon, a nakon ovog koncerta moje se misljenje nije nimalo promjenilo. Koncert je bio odličan, počeli su sa novom ''We're Gonna Drop The Atom Bomb'' a bogami da je tako i izgledalo, fanovi u prvim redovima pjevaju svaku pjesmu, bend u svojoj 'standardnoj'' obleki rastura, zrakom lete novčanice sa Turbonegro valutom i osjeća se nekakvo posebno oduševljenje u zraku, nešto predivno i neopisivo,nešto zbog čega su toliko posebni i zbog čega se živi rokenroll i zbog čega imaju vojsku Turbojugend fanova iz cijelog svijeta!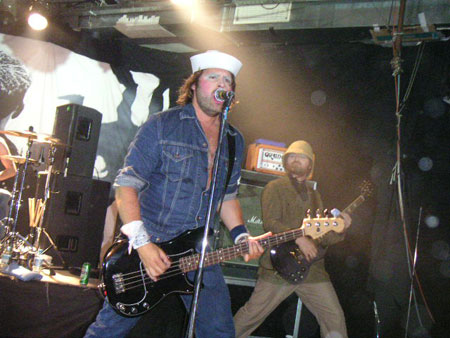 turbonegro © faic
Ovaj put su ih pratili iz Italije, Srbije, i dakako iz Hrvatske, a to je znao i Hank kojeg je zanimao presjek publike. Mislim da su svirali oko sat i 20 minuta, al meni se činilo ko da je prošlo 5, bend odlazi sa bine, mi naravno tražimo još,dolaze na bis, sviraju ''Age Of Pamparius'' oduševljenje raste i taman kad smo bili narajcani do kraja, zadnja stvar '' I Got Erection''i to je to, kraj nazalost.
Iako mi nisu svirali nekoliko starijih stvari koje sam očekivao, ne mogu biti nezadovoljan, a ni oni ne mogu svirati sve svoje odlične stvari, jer ih je previše.
hank © faic
"WHAT IS ROCK?!
Rock is the area between the balls and the anus of a dog or another man.
WHAT IS ROCK?!
Rock is the possibility of choking on your own vomit in the back of a rapist's van.
WHAT IS ROCK?!
Denim-clad Satanists making love in the sewers of Birmingham during Maggie Thatcher's prime.
euroboy © faic
WHAT IS ROCK?!
TURBONEGRO!
faic // 03/09/2007

> vidi sve fotke // see all photos