Sa cijelom serijom d.i.y. radova objavljenih u domovini, ovaj kvartet se odvažio i na veliki korak da pokori Europu. Samo jedno pitanje - šta su tako dugo čekali?
9 odličnih death-metal pjesama koje pokazuju i mnoštvo elemenata suvremenog math/metalcorea utjelovljeno je kroz 45 minuta koncizne svirke koja ne jenjava od prve skladbe "Long gone shadows" do pete "Golden age of downfalls". Tek u šestoj "Luctor et emergo" pokazuju znakove kompleksnih progressive varijacija, kao i u sedmoj "Stranded by existence". Donekle i u osmoj "Figureless icons" i posljednjoj "Collateral dreams" sa psihodeličnim intervalima.
Ali kako ovi momci sa Madeire praše, to je uistinu iznenađenje. Ubjedljiv, seljački grub i čist vokal frontmena Luis Erre donosi mnogo radosti za dvije odlične himne ("Long gone shadows" i arijom potkrijepljena "Only red mist descends,), a odlična svirka od koje se može ostati zabezeknut zbog nevjerojatno melodičnih pjesama koje, usput, ništa daleko ne bježe od metalcore/post-hardcore/pop-punk i death stila. Ima tu još odličnih pjesama"Loss" i još ponajboljih "Among the sleelpess" i "Golden age of downfalls".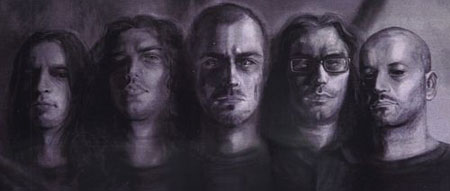 Ovo je sjajno! Nikad prije nisam čuo ovako melodičan i tehnički čisto produciran death metal bend sa simfonijskim, okey, progressive aranžmanima, ali da momci znaju raditi posao, svaka im čast.
Bravissimo ovim momcima s Madeire! "In Harmonic Entropy" vjerojatno neće biti album godine po nikakvim magazinima, ali će ostati u mom srcu kao jedan od najboljih i najpristupačnijih death albuma 2012. godine.
ocjena albuma [1-10]: 9

horvi // 21/09/2012