Nakon indie grupa JACK i JACQUES, nekoliko solo albuma, napisanih biografija Walker Brothersa, Jeff Buckleya i Leonarda Cohena, te ko zna čega, svoju ljubav prema poeziji i pisanju odlučio je i uglazbiti. Pronašao je Colin Wilsona (rođen 1931), engleskog filozofa i pisca, koji je svojim pisanjem insirirao mnoge glazbenika, od David Bowiea, Roberta Frippa, Juliana Copea do Anthony Reynoldsa, pogotovo svojim pisanjima o okultizmu i parapsihologiji.
Ovaj album čini deset textova Colina Wilsona, snimljenih u Colinovoj kući u St Austellu 2003/04. Kako je Colin napisao mnogo knjiga, ovdje su se zajedno skoncentirali na dijelove dragih Anthonyevih knjiga, kao što su Adrift in Soho, The Outsider, The Occult, Mysteries, Poetry and Mysticism… Textovi su uglazbljeni kasnije od strane Anthony Reynoldsa, Martina Carra (ex Boo Radleys) i španjolske grupe a kojom Anthony često surađuje LA Muneca De Sal. Muzička podloga koja je dodana, nikako ne odskače od textualnog dijela a posebnu ambijentalnu notu daju dijelovi snimljenih sintova ili ugodnog klavira.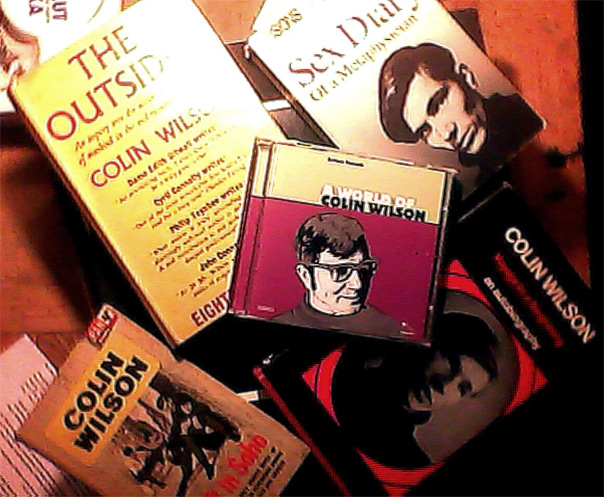 Iako bi se ovaj album mogao nazvati "spoken-wordom", on je i nešto više od toga, jer Wilsonovo recitiranje nije ostalo na pukom izgovaranju riječi, već je modernom tehnologijom ponekad njegov glas izobličen do neprepoznatljivosti, pa se tako čini da smo se uz pomoć muzike vratili u doba kada je okultizam bio nešto o čemu se nije smjelo slobodno govoriti. Mistika, meditacija i strah ono su čime se može ovaj album podičiti.
Iako ovaj album nije baš za svakoga, i nije za svakodnevno slušanje, porodici Colina Wilsona, nešto je nadraže u životu, jer je Colin u međuvremenu između snimanja i realizacije albuma doživio moždani udar, pa više ne može govoriti. No, slušati ga može, isto kao i njegovi ukućani.
ocjena albuma [1-10]: 8

pedja // 11/10/2012