Djela koja su suhoparno nazvana ovakvim imenima su najzagonetnija. Mnogi velikani klasične glazbe nikad nisu otkrili šta se nalazi iza 'simfonije u X duru ili molu', 'piano koncerta za orkestar', 'gudačkog kvarteta', 'andante', 'allegro', 'moderato', 'arpeggio' i sličnih termina s kojima su krstili svoja djela. Kritičari su pokušavali analizama njihovih života u vrijeme nastanka djela uroniti u njihovu metafizičku snagu i sadržaj. Ponekad uspješno, a u većini slučajeva su samo naklapali baziravši se na format, oblik i glazbenu građu. Na svu sreću, današnji kreativci zahvaljujući blagodatima opipljivih tonskih zapisa i nosača zvuka ponekad znaju otkriti nekoliko vitalnih pojmova koji su ih impresionirali i naveli na određeni kompozitorski rad.
Tako u slučaju novog albuma američkog pijanista i kompozitora Andrew Violetta priča počinje koncem 2010. godine kada se bavio proučavanjem Beethovenovih sonata za violončelo. Otkrio je u njima neopisivu ljepotu ritmova i dramaturgije, te je odlučio napraviti nešto slično. Kroz skraćeni dnevnik, priložen na unutrašnjoj knjižici cd-a, počevši od 10.XII 2010. do 7.VII 2012. opisuje kako je djelo nastajalo i čime je bio inspiriran, pa tako kaže da kad je napravio nekoliko zgodnih komada po uzoru na Brahmsove melodije za violončelo i još nekih u kojima je htio ubaciti vokale, prijeko mu je bila potrebna tematika. O čemu da djelo govori? Sasvim slučajno je naletio na Michaelangelovu izjavu 'rođen sam u izbušenom čamcu na olujnom moru - to je predodredilo moj životni put' i Delacroixovu 'ono što čovjeka čini genijem ili razumljivije, ono što ga inspirira za rad, nije nova ideja nego opsesija da sama ideja nije dovoljna'. U ovu kombinaciju motivacije, Violetteju je sinula ideja da se posluži mitskom temom o otoku Cythera na kome su rođene Venera i Afrodita, te da na svoj način prikaže putešestvije i dogodovštine fikcijskih junaka, istraživača, putnika-namjernika, pijanih mornara i sličnih avanturista koji su se odlučili da pronađu tu mističnu destinaciju.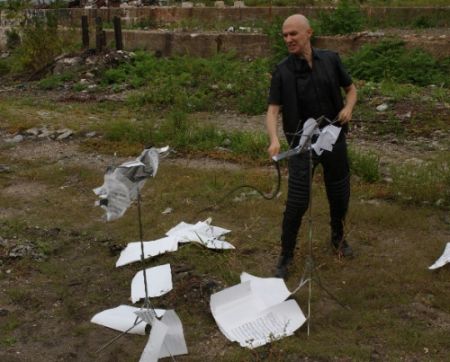 I onda je stvar posve jasna o čemu govori ovo djelo koje je u konačnici odrađeno bez vokala i lirike. Kreće od sjetnih i tugaljivih romantičnih zavrzlami za piano i violončelo koje je svirao Ben Capps na najvećem dijelu albuma opisujući olujno more, skupinu pijanih znatiželjnika u čamcu koji su zamišljali blagodati otoka, božanstvene i zanosne nimfe, te cijeli niz imaginarnih impresija koje se neprestano odvijaju na moru. Uz uvodne dvije, konkretno jasne klasičarske reference "Andante cantabile; marcato e pesante; refrain" i "Grazioso leggiero", ovdje se smjestila i 'pop-klasika' poput senzibilnog, pa čak i plesnog broja "Cha-cha with refrain", te ponajboljih i najduljih komada "Marcia funebre (variations 1-12)" i "Marcia funebre continued (variations 13-20)" (zajedno oko 18 minuta) koje vrhunce dosežu u visokim registrima violončela na pragu sympho-rocka. Kako se fabula razvija, očigledno su se desile i neke nepredviđene okolnosti ovakvog bezglavog putovanja u nepoznato - smrt, koja u kraćem komadu "Mournful bells" opisuje procesiju sprovoda i nastavlja ga u dva puta duljem "Glorious bells". Ova priča okončava ipak vedrim humpa-cumpa notama kratke teme "Grazioso recap with refrain" u kojoj je evidentno bio predviđen vokal.
Drugi, zasebni dio albuma čine tri relativno kratke i melodične sonate za piano i klarinet kojeg je odsvirao gost Moran Katz, a reflektiraju onu lepršaviju i sretniju stranu priče nautičkog života završavajući izuzetno temperamentnom i plesnom "Allegro con brio".
Ovakva muzika bez nekih određenih autorskih navoda bila bi enigmatična, ali nikako ne i teška za slušanje budući da je riječ o uravnoteženom odjeku starog klasičnog romantizma u novom, suvremenijem duhu u kojeg se bez ikakvih problema može uključiti svako uho željno prijatnog i nešto manje optimističnog, ali u svakom slučaju magičnog avanturizma koji traje 70-tak minuta.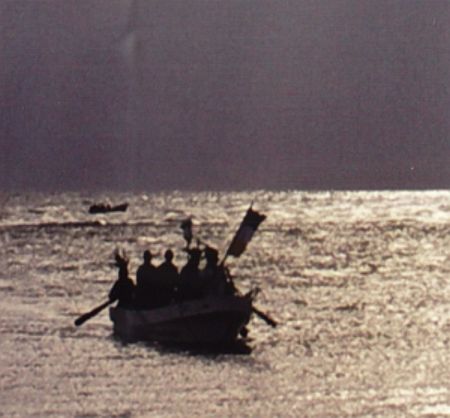 ----------------------------------------------------------------
Diskografija:
Pistis Sophia for solo voice (1970)
Three Pieces for piano (1970)
Fugamericana for piano (1970)
Fantasy for piano (1970)
Little Lullaby for guitar (1970)
Piano Piece 1 (1972)
Piano Piece 2 (1974)
Sonatina for harp and piano (1973-4)
In Memoriam for 2 trumpets, 2 horns, marimba (1974)
Black Tea for soprano, contrabass, harp and percussion (1976)
Amor Dammi Quel Fazzolettino for piano-4 hands (1976)
Fast/Short for two keyboards (1977)
Intermezzo for piano (1977)
Three Pieces in F for piano (1978)
*Piano Sonata 1 (1978)
*Piano Sonata 2 (1979)
*Piano Sonata 3 (1979)
Last Dance for 2 pianos and percussion (1979)
Dance for organ (1981)
Organbook (1981)
Worldes Blis for 3 trumpets, 2 horns, 2 trombones, 4 timpani (1982)
A Margarita Debayle for soprano and piano (1982)
*Piano Sonata 4 (1982)
Black Tea for harp, soprano, double bass and percussion (1982)
Quintet for flute, clarinet, violin, violoncello, piano (1983)
Pastorale for bass trombone and organ (1983)
Harmonizations (1983)
Three Choral Preludes for organ (1983)
American Songs for oboe, clarinet, bassoon (1984)
Chaconne for violin, marimba and tubular bells (1984)
Trio for horn, bass trombone and piano (1984)
*Piano Sonata 5 (1985)
String Quartet 1 (1985)
String Quartet 2 (1986)
String Quartet 3 (1986)
*Piano Sonata 6 (1986)
Little Boy Blue/Danny Boy for tenor and piano (1986)
Borges Songs for baritone and piano (1986)
Libera Me for organ (1986)
La Mejor Tinta for baritone and piano (1987)
Three Madrigals for SATB, violoncello and piano (1983-1987)
String Quartet 4 (1987)
String Quartet 5 (1988)
Sonata #1 for Two Pianos (1976, rev 1989)
String Quartet 6 (1989)
Five Sonatinas for piano (1994-5)
Song Set for soprano/tenor and piano (1993-97)
*Death of the Hired Hand for soprano and piano (1996)
*The Love Duet for soprano, tenor and piano (1996)
Neruda Songs for tenor and piano (1997)
The Adulterous Woman voice, piano (1997)
Whitman for sop, mezzo-sop, baritone, two pianos and percussion (2000)
Symphony in Six Parts for large orchestra (2000)
*Piano Sonata 7 (2001)
6 Performances for violin, violoncello, synthesizer, piano, horn, clarinet, flute (2001)
A Very Valentine soprano, piano (2002)
*Rave for 2 pianos, 2 synthesizers, electric violin and violin (2001-3)
Love Alone for voice, piano (2003)
Paradise Lost Part One: The Voices of God
The four voices (soprano, mezzo-soprano, tenor, baritone),
4 synthesizers, electric String Quartet, percussion (2004)
Paradise Lost Part Two: Adam and Eve in Heaven
The four voices (soprano, mezzo-soprano, tenor, baritone),
Adam (tenor), Eve (soprano), God in the Garden (boy soprano), flute, oboe, 3 synthesizers, violin, violoncello, percussion (2005)
Two Sax Sextets (2006)
Jazz for synthesizer (2006)
Songs and Dances for solo cello (2006)
*Sonata for unaccompanied violin (2006)
Sonata for guitar (2007)
*Sonatas For Cello And Clarinet (2012)
* - objavljeno na Innova Recordings
ocjena albuma [1-10]: 7

horvi // 02/04/2013