(u Prodaji od 02.05.2006)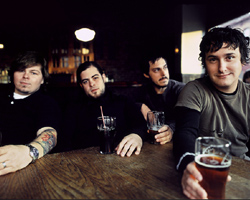 U povijesti Fatwrecka, otkako je ja pratim, smatram da nije bilo izdanja koje je promašeno (osim WIZOa) ovoliko koliko je promašen drugi album grupe None more black. Na prvi pogled cover albuma podsjeća na legendarni serijal "IT" gdje zli klaun napada malu djecu, iskreno smatram da isti efekt ovaj CD postiže kod mladih punkera koji su kupili ovo svježe izdanje fatwrecka. Ovaj CD je možda revolucionaran zvukom za ovu etiketu no klasični stoneri nisu nešto što će ljubitelj melodičnih bendova progutati. Od svih elemenata ovog izdanja zapravo je glas vokala James jedino vrijedno spomena, dok glazba podsjeća na već umorne veterane "Randy" ili modernije pop atrakcije "libertines" ili "franz ferdinand". Iako možda griješim što se tiče usporedbi sa glazbenim usporedbama ovaj bend je daleko ispod standarda prosječnog punk - rockera. Produkcijski bend čak i zvuči kao Against Me! čiji je član J. Robbins producirao album no eto još ću se jednom ponoviti, nije me se dojmio ukupni rezultat. Naravno, u nedostatku glazbene motivacije odlučio sam provjeriti i tekstove pjesama u kojima sam se čak i pronašao u strofi "How can I make this a metaphor for how I create this and how you criticize? I'd love to spit it right at your face, but you can wipe it off. That's not good enough.". Provjereno me zaista nije oduševilo, čak sam se morao potruditi naći strofu koju bi uvrstio pod "zanimljivije".
Zaključak ove recenzije bi bio - ukoliko volite "Against me" i "Franz ferdinanda" te ukoliko vam nije mrsko preslušati drsko eksperimentiranje sa pop glazbe sa tvrdokornim punk rock vokalima vjerojatno će vas ovo izdanje i zaintersirati. Dok se ne odlučite preslušati ovaj album, toplo vam preporučam novo izdanje Debelog precjednika ili pak Owerflova.
Citat iz press releasea:
"In age of crisis, satire is a way of challenging accepted precepts by making them seem ridiculous"
Favorite lyric line:
I've made up my mind. I shouldn't be loved.
I play in a band, I work when I'm home.
Why do I feel guilty for the shit that I have done?
Track lista
01: We Dance On The Ruins Of The Stupid Stage
02: Under My Feet
03: My Wallpaper Looks Like Paint
04: Zing-Pong
05: With The Transit Coat On
06: Opinions & Assholes
07: I See London
08: Who Crosses State Lines Without A Shirt?
09: D Is For Doorman (Come On In)
10: 10 Ton Jiggawatts
11: You Suck! But Your Peanut Butter Is OK
12: Yo, It's Not Rerun
13: Majestic
ocjena albuma [1-10]: 3

maxse // 10/05/2006