Na trećem albumu Andy Buttler je pozvao četiri vokala - Krystle Warren, John Granta, Gustapha i Rouge Mary koji se izmijenjuju u glavnim vokalnim rolama, ali je zaboravio da pjesme u sebi moraju imati nešto posebno, specifično i primamljivo. Otišao je on, bolje rečeno, vratio se u rani house/synth-pop s konca 80-ih i napravio veoma patetično izdanje koje ne bi prošlo niti na set listi seoskih DJ-a koji su tokom 90-ih preferirali techno i rave.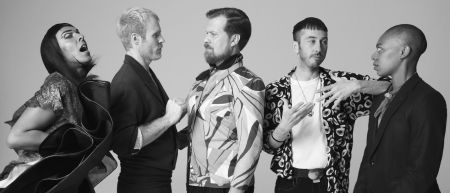 Hercules and love affair
Ovoliko plitko glazbeno umijeće nisam davno čuo: malo synth melodija, konstantnih bas linija, abnormalno zamornih house ritam mašina, techno/trance opservacija i prilično glupavih emotivnih tekstova koji su još lošiji od najpatetičnijih New Order, a znate kakvi oni uistinu mogu biti kad se Sumner i ekipa odvaže u 'iskrenost'. Ovdje nema ama baš niti jednog trenutka koji bi podignuo žalost nečega što uopće ne postoji i pokušava se personificirati sa svojim auditorijem kroz uglavnom samplirane vokale gostiju koji su uredno, ali bez ikakve velike strasti odradili svoje role.
Teško da ću ikada više poželjeti slušati Hercules And Love Affair koji su jako mnogo obećavali 2008. Ovo možda jednog dana otkrije ekipa s Radio Antene kao zaboravljeni biser 2014. godine. Ah, gadi mi se ta ideja, totalno, spram onoliko krasne pop glazbe koju nikad nisu prepoznali. Ipak, samo zbog radoznalosti ću možda poslušati i sljedeći album za 2-3 godine, a ovakvu glazbicu danas svaki electro-demo klinac može napraviti na svojem kompjuteru.
Naslovi: 1.Hercules theme 2014, 2.My offence (feat. Krystle Warren), 3.I try to talk to you (feat. John Grant), 4.That's not me (feat. Gustaph), 5.Think (feat. Rouge Mary), 6.5.34 to freedom (feat. Krystle Warren), 7.The light (feat. Krystle Warren), 8.Liberty (feat. John Grant), 9.Do you feel the same? (feat. Gustaph), 10.The key (feat. Rouge Mary)
ocjena albuma [1-10]: 2

horvi // 01/07/2014