Britanski indie-rock u zadnjih desetak godina prepoznaje se po manjku originalnosti gdje svaki izvođač pokušava prodati nešto isfurano, bilo to insinuacija na Pixies, Nirvanu, Beatlese, Stonese, funk, Joy Division, Floyde…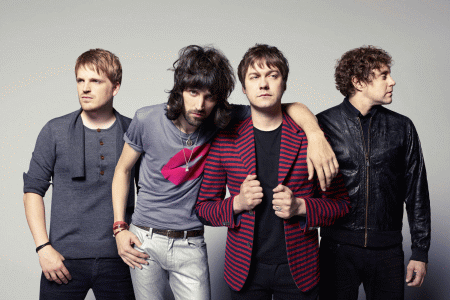 Još od onog sjajnog producentskog poteza John Leckiea na čuvenom debiju The Stone Roses 1990. bilo je jasno da će stvari kad-tad otići u posve krivom pravcu s ulaganjem napora u izvođače koji i nemaju osobiti talent ili sviračko umijeće, ali se možda mogu dobro 'proturiti'. Novi album Kasabiana je očiti primjer dobro smišljenog marketinškog štosa koji Britanijom hara još od vremena retro post-punk hypea Franz Ferdinanda, Bloc Party, Kaisers Chiefs, Editors i ekipe. Zna se kako su ti svi pripadajući bendovi poput zvijezda proletjeli sezonu-dvije (a mnogo njih smo i vidjeli u Zagrebu kao osrednje kreativne demo bendove, ništa boljih od naših), fluktirajući nepogrešivi jelovnik izabranih specijaliteta razvikanih restorana s ogromnim cijenama koje nisu za svaki džep stvarajući prividni utisak zvijezdanih, nedodirljivih staza. Uostalom, mnogi Britanci se upravo tako i ponašaju kao da su dio posebnog kontinenta koji ne pripada Europi, a tek na istok te Europe uvijek dolaze odsvirati poneki koncert za konzumente s Balkana i pripadajuće okolice jer u zadnjih petnaestak godina imaju širom otvorena vrata na nekoliko velikih festivala gdje se sakupi i po 50 tisuća ljudi što je puno učinkovitije od dvoranskih nastupa pred nekoliko stotina istinskih fanova.
Kasabian kao jedne od najvećih zvijezda ovogodišnjeg InMusic Festivala su klasična priča ispodprosječno nadarenog benda kome su marketing i industrija osigurali veliku reputaciju bez obzira na kreativno klišejiziranje. Glazba im je na ovome šestom studijskom albumu od pjesme do pjesme vješti plagijat-složenac mnogih velikih hitova znamenitih rock figura koje su odavno priskrbile besmrtne statuse, te ovom prilikom izbacuju ovaj leicesterski četverac među najpotencijalnije komercijalne adute tekuće godine (album je odmah dosegao UK no.1). Pjesma "
III ray (the king)
" evocira funk fazu Gang Of Four, "
You're in love with a psycho
" dance-rock Roxy Music, "
Good fight
" je kombinacija Bowiea i hita "
Virginia plain
" Roxy Music, "
Twentyfourseven
" ima natruhe blagog post-grungea, "
Wasted
" opet laganim staccato-pop koincidencijama pokušava dovući spoj Stonesa "Gimmie shelter" i The Smiths legende Johnny Marra, a "
Comeback kid
" sintetičkim orkestracijama skinuti s trona jedan od originalnijih britanskih bendova Elbow što su ionako ukorijenjeni u najboljim albumima Peter Gabriela.
Sve ovo doima se poput instant preparata, vrlo hibridno s gomilom provjerenih hitoidnih aditiva baš onako kao što su tokom 80-ih zvučali albumi Genesis i Phil Collinsa s otmjenom produkcijom, elektronskim finesama, samplovima, proširenom duhačkom sekcijom, diskoidnim tempovima, zamamnim arijama i refrenima, te poetikom koja je tu samo da bi učvrstila komercijalne pozicije koje su jedini prioritet kao mjerilo vrijednosti. Ali o nekom umjetničkom dojmu nesuvislo je govoriti. Jasna stvar da su im redovito skloni britanski novinari dali visoke ocjene (NME i The Independent), ali Clash i The Quietus im nisu bili skloni izjavivši da je "For Crying Out Loud" prilično predvidljiv, pa i priglup album.
Naslovi: 1.III ray (the king), 2.You're in love with a psycho, 3.Twentyfourseven, 4.Good fight, 5.Wasted, 6.Comeback kid, 7.The party never ends, 8.Are you looking for action?, 9.All through the night, 10.Sixteen blocks, 11.Bless this acid house, 12.Put life on it
ocjena albuma [1-10]: 5

horvi // 13/05/2017