Kevin Barnes je zanimljiv lik koji je nakon prekida s djevojkom nazvao svoj band Of Montreal. Cura je, naravno, bila iz Montreala i vjerojatno nije ni slutila da bi njihov prekid bio ključan za ovaj band.
Nedavno je Barnes nanovo doživio "breaking up the girl" i emotivni slom. Hissing Fauna, Are You The Destroyer? je njegovo novo lamentiranje o tom fenomenu. Većinu albuma čovjek je snimio sam, napisao je sve tekstove i poigravao se sintesajzerima u maniri psihodeličnog disco-rocka i pop funka.
Koliko njegovi emotivni slomovi djeluju loše na njegovo duševno stanje, toliko potiću njegovu kreativnost i tekstualnost na naše zadovoljstvo. Iako album zvuči melodično, razigrano i ambiciozno, tekstualno je emotivan i frustrirajući.
U "Heimdalsgate Like A Promethean Curse" Barnes vapi nad svojom emotivnom situacijom "I'm in a crisis, I need help, come on mood shift, shift back to good again, come on, be a friend". Svoju "krizu" dobro opisuje i u "Gronlandic Edit" - "I guess it would be nice to give my heart to a god, but which one, which one do i choose, oh, the church is filled with losers, psycho or confused".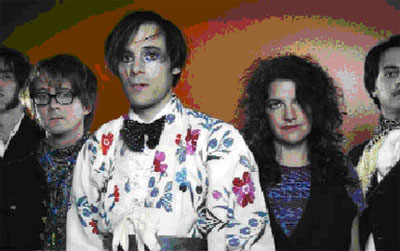 Centralni dio albuma je dvanaestminutna "The Past Is A Grotesque Animal" gdje dominantni sintesajzer, bas i Barnesova neurotičnost zbog svježih sjećanja na prekid uspjevaju biti plesni, iako je tekstualno veoma zloslutna ("Let's tear our fucking bodies apart"). Zbog posljednje zaljubljenosti Barnes se čak preselio iz SAD-a u Norvešku gdje se nimalo nije dobro osjećao (While I living in Norway, I felt the darkness of the black metal bands, but being such a fawn of a melody didn't burn down any old churches). Norvešku spominje i u kontekstu - u diskoteci nitko ne pleše - svi su vani - zapalili cigaretu. Taj skandinavski horor sa nepušenjem na javnim mjestima i meni se osobno dogodio - while I being in Norway - pa kužim čovjeka.
Uglavnom, Of Montreal uspjevaju ujediniti i izmiksati modernu eksperimentalnu tehnologiju sa britanskom invazijom psihodelije 70-ih godina na tragu suradnje David Bowie / Brian Eno. Barnes je inspiriran ultra melodičnim bassom, la-la-la pjevanjem Beatles stila, trash make-up-om i glam stiling-om na nastupima. Album je orijentiran na svemirski pop i bizarne tekstove kakve može stvoriti samo vrhunski songwriter. Sintesajzer je trenutno njegov najbolji friend, stvaranje koktela orkestralnih pjesama je njegova okupacija a hrvanje sa demonima prošlosti ionako će ga proći kad se ponovno zaljubi. Mi se pak nadamo da zaljubljenost neće potrajati...
ocjena albuma [1-10]: 8

tihomir // 17/03/2007