Neki bendovi s dobrim sviračkim pedigreom, pa i reputacijom previše se trude taj svoj rejting iskoristiti potencirajući komercijalne vrline poput ovih Norvežana iz Bergena, jedne friškije supergrupe sastavljene od članova 9 Grader Nord, Depresno, Ossicles i daleko najhvaljenijih među njima - Major Parkinson o kome smo već govorili na ovim stranicama prilikom albuma "Blackbox".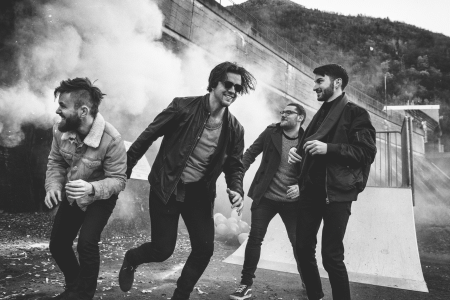 Želja je nesumnjivo samo jedna: pod svaku cijenu nametnuti zafrkantski štimung, proturiti komparativni hit-dva-tri i omastiti brk koliko se može jer za to ova četvorka ima talenta. Zabavni su i šaljivi u glumatanju anksioznosti, mora im se priznati, ali tu se i zaustavlja sav šarm te privlačnosti. Kombiniraju podosta stilova isto kao i Major Parkinson; uletavaju grlom u jagode ka retrospekciji mekanih izdanaka stonera, hard rocka i funka ostajući nepokriveni generalnim plaštem. Nije im važno što je to točno što sviraju, evo, nazvano je to 'futuristic retro-rock', a u pravilu kombinacija je soft rocka, šansone (pjesma "
Calling Tokyo
"), krautrocka ("
Like Monroe
"), akustike ("
Locking my doors
"), bluesa ("
In limbo
"), pa čak i iskrzanog garažnog post-grungea ("
Swing
"), dok ima i tema striktno uronjenih u funk poput "
Keep I've coming
" ili prvog singla, sasvim simpatičnog "
Tin foil hat
" s kojim se možebitno najavljuje nešto vrlo zanimljivo i uzbudljivo.
Ponekad jači stisci na distorziju gitare daju sitno iskričave eksplozije, promjene tempova groove dinamiku, a falset vokali neurotičnost; sve je ovo dosta stilski bogato unutar ovih 30 minuta materijala s omotnicom sastavljenom od 40 šarenih pilula, međutim uočljivo jest glavnina glazbenih tenzija bazirana na striktno komercijalnom profilu posljednja dva-tri albuma Queens Of The Stone Age. Ne bih se kladio u neku kreativnu budućnost s ovakvim eklektičnim miš-maš izrazom. Prije u komercijalnu prođu. A možda za neku simpatičniju opasku i doživljaj uistinu treba progutati 40 pilula...
Naslovi: 1.Tin foil hat, 2.Calling Tokyo, 3.Like Monroe, 4.Locking my doors, 5.Swing, 6.In limbo, 7.Keep'em coming, 8.Radio, 9.Mangroove
ocjena albuma [1-10]: 6

horvi // 23/06/2018