Igor Mortis
, sam svoj majstor iz Slovenije je jedini član ovog benda čije ime je neuobičajena riječ s mnogo značenja. Može biti glagol koji predstavlja neku agresivnu radnju iživljavanja frustracija, iskazivanja seksualne napaljenosti, navlačenja, zavlačenja, zalijetanja, mljevenja, može u nekim kontekstima značiti biti napušen ili zalutati. A ponekad može značiti i nečistoća. Na danskom jeziku 'slundy' je lijen, lenjiv, otezalo… pa sad, uzmimo kako god hoćemo da je
slund
svašta nešto Igoru zgodno u lingvističkim cakama jerbo često koristi različite izvedenice s dodacima, a također ima i još nekoliko imena poput Igor McSlund a.k.a. Slundor, a.k.a. El Slundo, a.k.a. Slundy Slund And The Funky Bunch Music…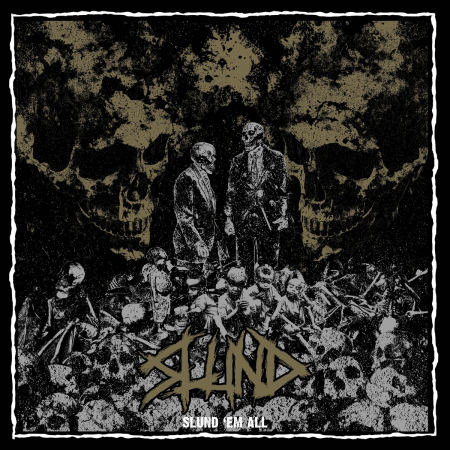 Kako nisam upoznat s ranijim ostvarenjima, a ima ih 12 do sada od čega su najvećim dijelom split izdanja s otprilike bliskim žanrovskim autorima, ovaj treći služeni album realiziran za njegovu etiketu Bruxism Records spada u ekstreman powerviolence grindcore klasičnih gabarita sa čak 23 pjesme od kojih su tek svega tri u opsezima od 2-3 minute, a ostatak varira kratkim rezovima od cirka minutu i još nešto povrh toga. Nabrušena noiserka gitara s rijetkim izletima u rafalne riffove (bez solaža), brundavi basovi, urnebesni galopi i hrapavo bijesan vokal, no sve skupa komičan performans prošaran mnogobrojnim govornim insertima (moguće iz tko zna kakvih filmova i posuđenica s medija), a i 'in the face of the place' izrečenih kratkih pasosa izazivaju nesmiljeno zajebantski ugođaj šegačenja sa svime i svačime. Osobnim dilemama ("
Self inflicted
"), mizantropijom ("
Inhuman noise attack
"), crnim humorom ("
The slund shuffle/ Dead inside
", "
You smell like teen spirit
"), demonima, đavolima, sotonom ("
The slund demon
", "
OG Satan
"), prijateljima, poznanicima ("
Ivan Drago is cool/ Funkyfresh Shiznit
"), konzumerizmom ("
A slave to consumerism
"), medijima, porocima, kojekakvim ljudskim bedastoćama koje iz nekog ozbiljnog aspekta i ne bi izazivale podsmijeh ("
Contemporary art is my favourite comedy genre
"), elem mnogostrukim referencama na život i smrt, a sve to kako je prikazano dovoljno upečatljivo govori kako se Slund u principu voli baviti onom specifičnom vrstom ljudi što su sami svoji, najveći komedijaši vlastite sudbine.
Kroz brutalno isklesan zvuk oštrih kuka i pomahnitalih ritmova nerijetko se protegnu i elementi gitarskog sludgea, pa i poneke doom primjese lukavo upakiranih energičnim topotima, i onako, kroz sveopći smijeh, u ovakvoj šarži samo još manjka harmonika dugmetara s melodijama polke i valcera, te jodlanje kako bi dojam slovenskog grindcorea bio kompletan. Uz sve pozitivne dojmove koje je ovaj materijal ostavio na mene, nikako se ne mogu oteti dojmu da jednoobrazni rafali u uskom i vrlo skučenom obliku ne dozvoljavaju nikakvu veću kontemplaciju uslijed čega gotovo sve pjesme izgledaju isto, skoro pa nalik kao jaje jajetu. Ali za ugodnu zafrkanciju iživljavanja itekako posluži.
Naslovi: 1.The blastoff, 2.Attack of the slund beast/ Let there be noise, 3.Self inflicted, 4.Slund cut, 5.Ivan Drago is cool/ Funkyfresh Shiznit, 6.Let's evolve, 7.The slund demon, 8.OG satan, 9.The slund shuffle/ Dead inside, 10.Under control, 11.Contemporary art is my favorite comedy genre, 12.I don't care, 13.Inhuman noise attack, 14.Spoiler alert/ Please let me watch your vacation photos, 15.Funky operator, 16.A slave to consumerism, 17.Step aside/ Slund invaders, 18.You smell like teen spirit, 19.The slundment day, 20.Broken dreams/ Move and groove, 21.Endgame, 22.Clever insutter/ Sounds of chaos, 23.Perscription junkie
ocjena albuma [1-10]: 7

horvi // 16/10/2020