Švedski komedijaši s deset studijskih albuma i brdom singlova, mahom obrada poput The Dead Moon, Motorhead, Ramones, Electric Frankenstein, The Whocares, V8Wankers, Undertones, Kiss, Misfits, Turbonegro, Bruce Springsteen, W.A.S.P., Alice Cooper… su u vrijeme lockdowna parodirali po studiju u Kungsbacku s nekoliko gostiju (Chip Kiesby, Jeff Dahl, Chuck Dee, Hans Gäfvert) i odvažili se na kompresirani album s hibridnim potencijalom.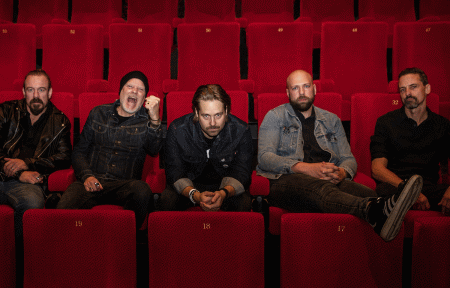 Prije svega jer su se uhvatili poprilično ljigavog hard-rocka premda su ranije imali punk'n'roll i stoner elemenata koji su često kritizirani zbog lelujave kvalitete, ali kroz 18 godina postojanja stil i glazba su im spontano sazreli u iskreniji kontinuitet s jednostavnim aranžmanima i gitarskim riffovima prepletenih solističkim 'cheesy' izletima nalik na AC/DC. Pomanjkanje punka i garažnog stila uočljivo je od prve do zadnje pjesme pretendirajući ka populistički prihvaćenom izričaju s kojim bi mogli zagolicati simpatije one prosječne audijencije koja otkida na navedene izvođače koje su obrađivali.
Sve se ovdje ionako svodi na parodiju od njihovih imena Chuck Ransom (vokal), Chuck The Ripper, Chuck Rooster (gitare), Chuck Buzz (bubnjevi), Chuck Dakota (bas) do imperativa 'hvataj riffove' poput pjesama "
Spin it round
", singla "
DirtShot
", brzinskog pojačivača "
Turning me inside out
", drajverskog tripa za stoner-bajkere "
Devils lake
", pa sve do neočekivane melodične završne balade "
New day rising
". A i spomenuti gosti su se našegačili po slobodnim nahođenjima, pa premda ovdje ne valja tražiti neki nadahnuti i kreativnije izraženi performans, te na samom startu treba zaboraviti na inovantnost i originalnost, ovo je simpatičan humoreskni i zabavan album gdje valja mozak i sve probleme pustiti na pašu. Ništa osobito, ali za razbibrigu malčice bolje i energičnije od Kiss, Milića Vukašinovića i Divljih Jagoda. This will leave a mark. Ostati će neki trag. Valjda…
Naslovi: 1.DirtShot, 2.Landslide (feat. Chips Kiesbye), 3.Kill the night, 4.In for the kill, 5.Turning me inside out, 6.Benefit of the doubt, 7.Hand Grenade (feat. Jeff Dahl), 8.This will leave a Mark, 9.Spin it round, 10.Devils lake, 11.Bad blood, 12.New day rising
ocjena albuma [1-10]: 5

horvi // 20/09/2021