Djelovi u jednoj pjesmi, odsvirani kao neki hipertalentovani klavijaturista iz Burme ili neke druge zemlje, Indije, samo se u ovom slučaju radi o Evropljaninu (Daniel Malempré iz Belgije). Za to vrijeme niti futuristička niti previše nostalgična već mnogo acid, puno svježih efekata za jedno acid putovanje.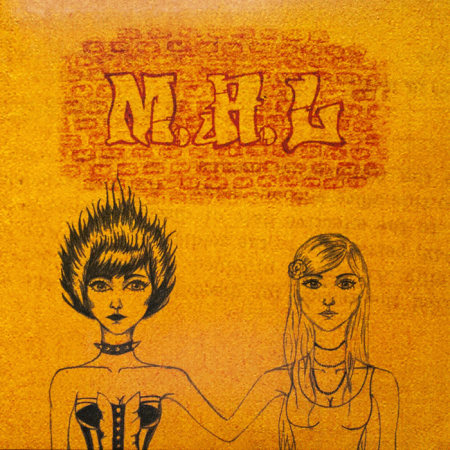 Mislim droga je sama po sebi beskorisan element u toj priči, muzički prije svega, acid, jednostavno zvuk koji će kasnije postati otkriće plesne muzike - jaka energija. Prilično je sve u djelovima da mogu shvatiti ovaj audio kolaž kao produkcijski izazov tog vremena, moglo se sa promjenama i pauzama slušati muzika. U trenucima psihodelije ima dovoljno da se može porediti sa nekim bendovima tog vremena, a i proto rock-a iz kojeg je recimo Sonic Youth mogao proizaći. Ritam kao Suicide, sa velikom razlikom u klavijaturama, recimo, evropska verzija bez tog nastupa uživo, ili ranijeg EKV-a. Masivni bitovi u pojedinim trenucima sa neonskom atmosferom bez tradicionalnih dijaloga starih Crnogoraca, drama koja se odigrala u tim starim kućama koju je režirao Živko Nikolić, koje kad posjetite, u to vrijeme u kojem su njegovi filmovi i serije bilo popularni, osjećate se jako ponosno i moćno. Gotovo sva pažnja je usmjerena na život unutar tih kuća, još su mi i dalje ti snimci ostali urezani u pamćenje. Bas linija sa sviranjem klavijatura preko, dionicama koji su svojevrsni pokušaj plesne muzike, za to vrijeme ako bi odjeknuli, mada kasnije je dosta bend preuzeo tu ulogu. Novi talas. Jako se mijenja zvuk ka recimo televizijski dočaranom Beogradu tih godina, kad se otac budio uz radio, a ja bio svjestan svoje uloge, dostavljači politike, ostale štampe, kako se sve to zapravo okreće u štampariji, nekom mojem ličnom svijetu, tada dosta zavisnog od televizije, možda nisam čak ni morao da ga upoznam nikad, ali sticajem okolnosti morao sam. Policijski čas i zatvorenost, mrak koji pada na grad, jednostavno se hvata zadnji momenat da se prije istog stigne kući, dok sve to u jednom trenutku nisu pokvarili utiskom informisanosti o  deportacijama i prinudnim mobilizacijama. Dosta se mijenja svirački, jako interesantno, puno nekih zvukova koji su na procesoru jako određeni, neđe i shvatam razliku samo ne znam što će im pojačalo, mada je ono neđe tad vjerovatno bilo marginalizovano za kasniji nastanak plesne muzike devedesetih i pjevačica koje su snimale hitove, koji su se slušali na rođendanima. Ali samo malo ima toga, kao da je na ovom albumu pohrlio da snimi sve što će nakon desetak godina zadesiti muziku, svijet.... Zvuk postaje i ambijentalan, i pomalo zaprljan, ali sve u cilju postavljanja efekata, tako su se nekad postavljali efekti ispravno, pravi album za to. Pomalo je evrovizijski za današnje vrijeme, s tim da dosta tome doprinose vokalno pojedinci. Čovjek bi to najmanje očekivao, koliko pojedinaca ima koji su iza sebe ostavili prava remek djela, a koliko novih proizilazi iz tog već postojećeg. Dosta ima i Klaus Schulze momenata, uporedivo dosta.
Naslovi:
Chemistry II
A1 Chemistry II 11:22
A2 Bizarre, Bizarre, Bizarre 3:49
A3 The Garden Of The Cards 3:12
A4 Lie Detector Test 1:40
A5 The Human Mind Strings [Strings Organ] - Alain Neffe 3:55
A6 There Is A Man At The Door 2:25
A7 Walkers 2:34
A8 A Mysterious Adventure 2:16
Early Tapes
B1 Orion 20:09
B2 Andromède Synthesizer - Alain Neffe 8:24
ocjena albuma [1-10]: 7

edo žuđelović // 10/08/2022
PS: In 1970, with the bassist Francis Pourcel, I formed "SIC", a blues band. But, more experimental music lover, a little later, we formed "Kosmose" with Alain Neffe (keyboards and flute). At this time, I started recordings of cosmic guitar.
In 1981, I formed with Alain Neffe and Mirella Brunello (vocals) the band "Subject".I also started a solo career under the name "M.A.L.".
Tracks 1 to 8 recorded and mixed by
Daniel Malempré
in the 80's on Fostex cassette four track and a 2 track tape recorder.
All instruments played by M.A.L.
Alain Neffe played strings organ on "The human mind"
Tracks 9 to 10 recorded between 1971 and 1974 with a 2 track tape recorder, a second hand guitar and a pedal wha-wha.
All compositions are played with electric guitar only, except "Andromède" on which Alain Neffe plays synthesizer.