U trenutku kada se
Johnny Lydon
(Rotten) sudski spori s bivšim drugarima iz
Sex Pistols
zbog mnogobrojnih autorskih prava, te ima novi album Public Image Ltd. nedorečenog sudnjeg dana "
End of World
" www.terapija.net/mjuzik.asp?ID=32536 upravo njegov bivši Pistols kolega Glen Matlock (27/08/1956) ima daleko referentniji i koherentniji album s oštrom političkom intonacijom.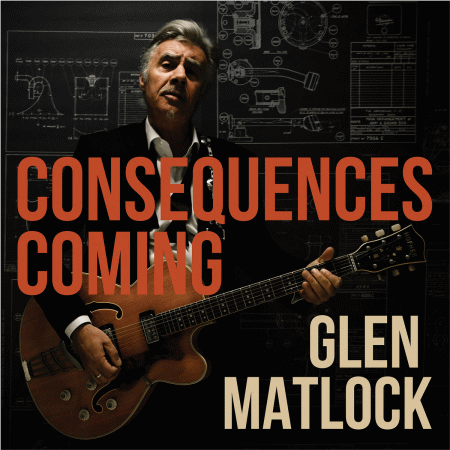 Nije se baš mnogo obaziralo na Matlocka kada je izbačen iz Pistolsa 1977. jer svojom skuliranom mirnoćom nije odgovarao provokativno divljem i neobuzdanom imageu, a napisao je gotovo sve vitalne pjesme. Snimio je s njima taj jedini i epohalni album "
Never Mind the Bollocks…
", zamijenio ga je najpoznatiji punk idiot Sid Vicuos, a onda s Midge Ureom, također kolegom iz Pistolsa koji je jedno kratko vrijeme mijenjao gitarista
Steve Jonesa
na turneji, koncem iste godine osnovao kratkotrajni power-pop/ new-wave bend
Rich Kids
s kojim je ostvario jedan hit-singl "Rich kids/ Empty words" (UK no.24) i samo jedan studijski album jer se ekipa razasula u daleko komercijalnijem, a i modernijem Visage, a onda u Ultravox. Glen je potom još svirao s Iggy Popom na albumu "Soldier" (1980) i gotovo netragom nestao narednih 15 godina pojavivši se u obnovljenoj sesiji The Damned i u prvom reuinionu Sex Pistols 1996. kada je realizirao i prvi solo album "
Who's He Think He Is When He's at Home
". Nedugo potom je okupio prateći sastav
Philistines
s kojim je realizirao 5 albuma, te ima još jedan projekt
The International Swingers
s kojim je u posljednjih desetak godina realizirao 2 EP-ija i jedan album u limitiranim tiražima. A u različitim vremenskim razmacima bio je članom još desetak bendova, između ostalih i The Faces na povratničkoj turneji 2010-2012 bez originalnog frontmena Rod Stewarta kojeg je mijenjao Mick Hucknall iz Simply Red. Pistolse je okupljao još nekoliko puta sa Steve Jonesom koji od onog istoimenog albuma supergrupe Neurotic Outsiders s Daff McKaganom, Matt Stourmom iz Guns'n'Roses i John Taylorom, basistom Duran Duran (1996) ama baš ništa nije realizirao.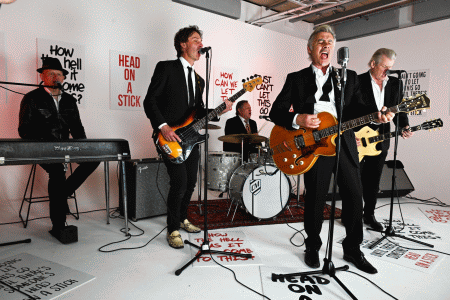 Za razliku od Lydona koji se pokazuje apolitičnom, tvrdoglavom i vrlo loše informiranom personom o mnogo čega toga, Matlock je potkovan i elokventan pokazavši da je ovaj album referenca na debakl oko Brexita, te uspona i pada manipulacijskog Trumpa prikazavši jadno stanje u koju su zapali UK i USA već odmah u prvom singlu, čvrstom rocku s natruhama punka "
Head on a stick
" obrušivši se na britanske konzervativce stihom '
osjećam se kao svjedok zločina
' protestirajući u nadi da će biti kažnjeni oni u vladi što su grdno pogriješili prema narodu u naslovnoj "
Consequences coming
" nastavivši u vrhuncu albuma, pjesmama "
Magic carpet ride
" (s proto-punk sinergijom bluesa) i "
Speaking in tongues
" (nema veze s Talking Heads) akcentirajući društveni kaos iz kojeg se ne može pobjeći, a niti sakriti od njega gledajući paradiranje političkih celebritija što pričaju nerazumljivo i nejasno nadmetajući se samo utrkom za medijskim prestižem. Mora se primijetiti u priloženom video spotu da Matlock sada djeluje poput kombinacije Bryan Ferryja i Gibby Haynesa (Butthole Surfers, naravno), sa sijedom kosom i brkovima (majko mila, ne fali mu niti jedna dlaka s glave) upicanjen u finom odijelu s punkerskim crno-bijelim (ska?) bedževima na remenu gitare isto kao i čitav bend u kome su same legende poput bubnjara
Chris Musta
i gitariste
Dave Donelyja
.
Tu onda u konceptualni dio dolazi i neočekivana obrada jednog od najvećih hitova K.D. Lang "
Constant craving
" (1992, UK no.15, USA no.38) održavajući političku priču gotovo do konca albuma tu i tamo skretavši i na individualne preokupacije, posebice je sada jasno da se u laganom šlageru "Tired to tell you" osvrće na Lydona s kojime kontaktira jedino preko odvjetnika pokazavši da ama baš ništa nije izgubio od one mirne revoltirane osobe iz rane mladosti punka nabijene frustracijom i arogantno pronicljivim stavom protiv autoriteta, ma kakvi god da bili ili jesu. Zadnja pjesma "This ship" donosi kontrast spram sve loše situacije o kojoj album govori unijevši dašak optimizma na nepune 4 minute.
Ponegdje, s vremena na vrijeme Matlock uruši liriku u mračnije sfere klaustrofobičnim i bijesnim meditacijama bez obaveze prema lošim insinuacijama kojima manje-više teže svi punkeri, on se u svemu tome uzdiže čvrstim stavovima evidentno potkrijepljen realnim činjenicama i dokazima sa svih strana ne fantazirajući neutemeljene bedastoće, a po kompetenciji vrlo lako može u svakom trenutku Lydonu dokazati pravo stanje stvari. A i dobiti sudski spor. Konzekvence dolaze.
Naslovi: 1.Head on a stick, 2.Consequences coming, 3.Magic carpet ride, 4.Speaking in tongues, 5.Shine off your shoes, 6.Constant craving, 7.Step in the right direction, 8.Something 'bout the weekend, 9.This empty heart, 10.Face in s crowd, 11.Tired to tell you, 12.Can't be myself with you, 13.This ship
ocjena albuma [1-10]: 8

horvi // 21/08/2023