Svi koji su mislili da su Heavy Trash 'one time deal', nešto što su Jon Spencer i Matt Verta-Ray napravili iz čiste zezancije, sada imaju dokaz da tome nije tako. Heavy Trash su izdali svoj drugi album ''Going Way Out With Heavy Trash'' za Yep Roc, na kojem su nastavili prekopavati po rockabilly ostavštini i oblačiti je u moderno ruho.
Na
prvom albumu
Jon i Matt su gotovo sve napravili sami, ali kako im je ipak trebao prateći bend na koncertima, Heavy Trash su se iskristalizirali u čak tri različite kombinacije od kojih svaka ima specifičan zvuk. Dobar dio američkih i kanadskih datuma kao Heavy Trash sviraju kanadski The Sadies (koje ćemo u veljači imati priliku pogledati u Zagrebu u organizaciji SC-a), koji pjesmama daju blagi country prizvuk. Ako ste ikada čuli akustičnu izvedbu ''Your Love Made Me'' s WFMU sessiona, sve će vam biti jasno. Jer ta verzija je prilično daleko od nabrijane r'n'r izvedbe sa njujorčanima Simonom Chardietom i Philom Hernandezom, koju smo recimo imali prilike čuti i vidjeti
prošle godine u Puli
. Treća Heavy Trash kombinacija je s članovima danskih bendova The Tremolo Beer Gut i Powersolo s kojima sviraju još od
prve europske turneje
, i koji pjesmama daju prljavi r'n'r štih, što izgledom, što svirkom.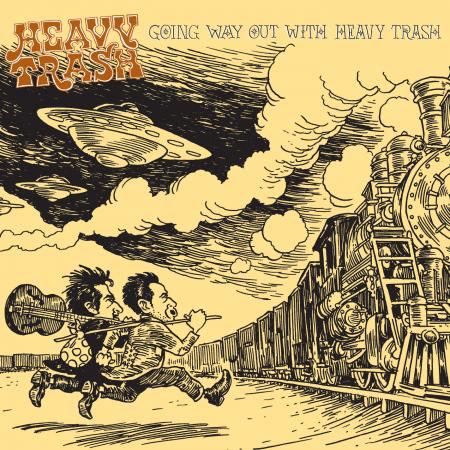 Dok slušate album skoro pa možete bez greške pogoditi u kojoj pjesmi tko svira, ali svejedno sve zvuči kao dobro sklopljena cjelina. Jon Spencer opet zvuči tako da bi vas koju dekadu ranije mama zaključala u špajzu da vas uhvati da ga slušate, čisto da vam sačuva nevinost i čistoću duše. Jer iako je svoje mračnije i seksualnom energijom nabijene Blues Explosion stavio u hibernaciju, Jon Spencer u svom veselijem rockabilly izdanju i dalje kod ženskog dijela publike (a bome i dobrog dijela muškog) izaziva 'rodit ću mu djecu' porive, pogotovo dok ga gledate na koncertu. Ne sjećam se kada mi je toliko muških osoba nakon nekog koncerta reklo ''E da sam žensko, znaš šta…'' kao nakon koncerta Heavy Trash u Puli.
Matt i Jon se savršeno nadopunjuju jer što Jon izvodi glasom Matt savršeno prati na gitari. A Jon pjeva u najboljoj maniri Elvisa i Charliea Feathersa, a u ''That Ain't Right'' zvuči jezivo slično Johnnyju Cashu. Pjesme idu od totalno poludjele ''I Want Oblivion'' u kojoj Jon vrišti ''I wanna suck my brain out my eyeball'' do bluzičave ''You Can't Win'', posljednje pjesme na albumu.
Moram spomenuti i da je artwork albuma radio Tony Millionaire, poznati ilustrator i crtač stripova, koji je album ukrasio šaljivim 'retro SF' crtežima.
Iako me nije uhvatio na prvu loptu kao njegov prethodnik ''Heavy Trash'', i morala sam ga poslušati više puta, pa čak i malo staviti sa strane dok mi potpuno ne sjedne kako treba, ''Going Way Out With Heavy Trash'' je izvrstan album uz koji definitivno ne možete sjediti mirno dok svira. Kao uostalom ni na koncertu Heavy Trasha.
ocjena albuma [1-10]: 10

ana // 13/11/2007