Obicno kad bend objavi dva albuma u samo par mjeseci to moze znaciti samo par stvari. Ili stvarno imaju viska kreativnosti ili pokusavaju napraviti brzi cash-in na racun uspjesnog proslog albuma jer su svjesni da je danas u glazbenom svijetu jednako lako propasti i uspjeti. Srecom, kod Los Campesinos! je u pitanju ono prvo jer ove 33 minute koliko traje "We Are Beautiful, We Are Doomed" su u najmanju ruku jednako dobre kao i prvi album kojega jos uvijek rado slusamo.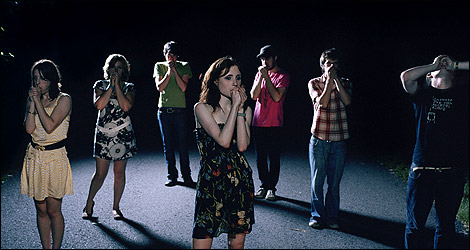 Los Campesinos!
Osnovna razlika ovih 10 pjesama od debija je sto su danasnji Los Campesinos! puno suroviji i u mracnijem tonu. Mislim, prva recenica albuma je ""I think it's fair to say that I chose hopelessness, And inflicted it on the rest of us" a do cetvrte pjesme vec je propalo par veza, bilo je srcanih udara, povracanja u meksickim restoranima. Sve je to po obicaju popraceno kaoticnim violinama i ostalim zvukicima kojih se ne bi posramili ni njihovi uzori Broken Social Scene.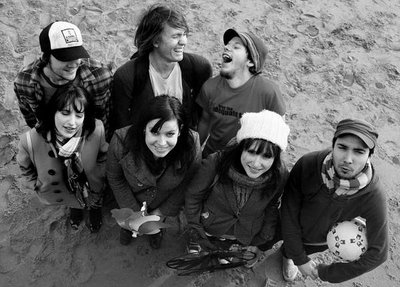 Los Campesinos!
Ipak, ono najbolje se nalazi u mirnoj i predivnom sestominutnoj "You'll Need Those Fingers For Crossing" koja je vjerojatno nesto najljepse sto su Los Campesinos! do sada napravili. Sto je najblesavije u cijeloj prici je da Los Campesinos! uopce ne smatraju ovaj album albumom vec necim izmedu ep-ija i albuma pa tako s albuma nece biti single-ova, video-ija a samo izdanje je ultra limited u 5000 komada bez planova na dodatno doprintavanje. Samo izdanje ako sam dobro shvatio izgleda kao nekakav mali boxset u kojem dobijete i bonus dvd i fanzine s tekstovima grandaddy, xiu xiu i slicnih pa ukoliko vas zanima narucite jer ovo ce vjerojatno brzo nestati.
U svakom slucaju hvale vrijedan uradak pa se nadajmo da ce i "pravi" drugi album biti bar priblizno dobar.
Sto o ovom polu-albumu kazu sami Los Campesinos! procitajte u nasem interview-u s Ollijem.
ocjena albuma [1-10]: 10

kris // 14/10/2008