Moram priznati da nisam neki veliki poznavatelj lika i djela Stephen McBean-a jer mi se jos tamo davno Black Mountain nisu svidjeli pa sam na njega potpuno zaboravio. Tako da je skoro sto posto sigurno da bi vjerojatno i dalje zbog spomenutog nastavio ignorirati Pink Mountaintops da nije Mate po obicaju upleo svoje prste i organizirao njihov koncert. Ali gle cuda, Pink Mountaintops su izvrsni i ako je suditi po njihovom posljednjem albumu "Outside Love" o ikakvog ignoranciji nema govora.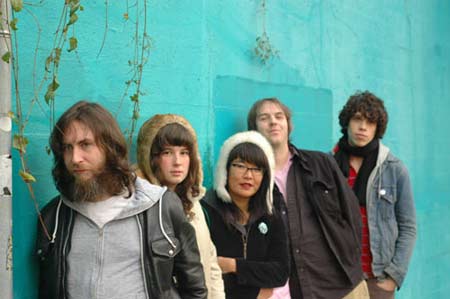 Pink Mountaintops
Novi album je sam Stephen opisao kao "ten-song concept suite about love and hate that reads like a Danielle Steele romance novel" i to je u biti najbolji zamislivi opis koji iko moze napisati. Sa zvukom koji je po meni podosta na tragu posljednjeg albuma Magnetic Fields, ili kako Pedja kaze Spirutalized, Stephen lagano prolazi kroz padove i uspone svog ljubavnog zivota. Meni posebno rasturaju "Execution" i "Holiday" koje jedva cekam vidjeti uzivo.
Anyway, plan je sljedeci :
- skinite s neta djabe "Outside Love" i slusajte do iznemoglosti.
- Pojavite se na Pink Mountaintops koncertu u SC-u
- Na kraju koncerta kupite plocu i majicu!
ocjena albuma [1-10]: 8

kris // 13/05/2009