Četiri godine nakon iznenađujuće kolaboracije dva nespojiva vokala, Isobel i Mark nisu uspjeli ponoviti zadovoljstvo što su nam pružili s "
Ballad of the Broken Seas
", ali su i pokazali da je "
Sunday at Devil Dirt
" bila trenutna slabost.
Predivno šaputanje i hrapavi bluz i na "Hawk" su osnovna snaga i osnovna slabost, kao i na prethodnicima, dok je muzička podloga i dalje u pozadini, nevidljiva atmosferična mješavina folka, bluza i soula. I dalje je Isobel ta koja piše pjesme. Dobrano joj pomaže njen dugogodišnji pratitelj, gitarista Jim McCulloch, inače nekad davno član SOUP DRAGONS-a. Mark je tu samo da bude. Na ovom albumu posegnuli su i u Van Zandtovu pjesmaricu. Neću reći da su Snake Song i No Place to Fall najbolje na albumu, ali Marku je ova prva legla najbolje od svih, što i nije čudno poznavateljima Zandtovog opusa. Na No Place to Fall i Cool Water, Lanegana je zamijenio mladi američki folky pjevač Willy Mason. Neću reći da mi se to sviđa, ali unijelo je malo živosti u "Hawk".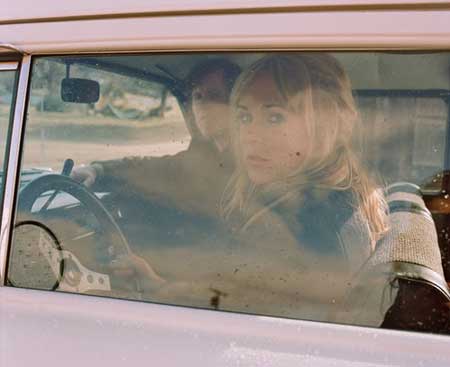 Ipak, Come Undone je predivan r&b, za kakav bi mnogi izvođači današnjice dali svašta, You Won't Let Me Down Again je James Iha začinio svojom gitarom, a isto je načinio i sa To Hell & Back Again, a Lately nastavlja s gospelom, koji pak otvara jednu potpuno novu stranicu u njihovim životima. Na Sunrise i To Hell and Back again, Isobel je sama u pratnji minimalističke glazbene podloge, a tim dijelom priziva svoje prethodno solo izdanje "Milk White Sheets".
Jedina pjesma koja može konkurirati materijalu s prvijenca je We Die and See Beauty Reign, pjesma koja otvara album. Ostatak je prosjek, no još uvijek daje mnogo više zadovoljstva nego mnogi razvikaniji albumi.
ocjena albuma [1-10]: 7

pedja // 06/09/2010