Zamislite kombinaciju najtoplijeg i najnježnijeg ženskog vokala i hrapavog, drogom i alkoholom natopljenog, muškog vokala uz smirujuću glazbenu podlogu!?!? Ne, nisu u pitanju Nick i Kylie, niti Shane i Kirsty, niti Jim i Hope… Već Isobel i Mark. Nova vokalna kombinacija, koja me pred kraj 2005. ugodno iznenadila singlom, odnosno obradom Hank Williamsove Ramblin' Man.
Kako su mi za vrijeme grunge (r)evolucije SCREAMING TREES bili nekako najdraži bend iz plejade, a Nearly Lost You upečatljivo najjača stvar iz tog doba, sa žaljenjem sam dočekivao Laneganove solo albume i izlete u carstva droge. A nisam baš bio nešto prezadovoljan ni s njegovim angažmanom u QUEENS OF THE STONE AGE ili pak u DESERT SESSIONS. I tako je bilo sve do zadnjeg "Bubblegum", s kojim me ponovo prodrmao njegov glas i vratio mi vjeru u njega.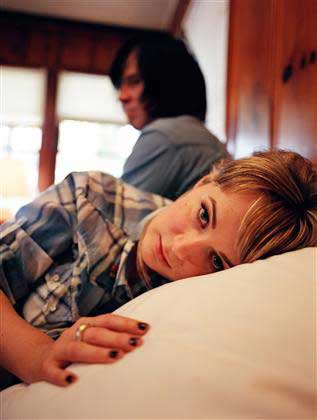 isobel & mark © http://gb.v2music.com/
S druge strane, moglo bi se reći da sam BELLE & SEBASTIAN počeo "slušati" tek po odlasku Isobel iz benda (slučajno, nije povezano). Do onda su mi spadali u rang dosadnjikavih bendova u čijim se pjesmama ništ ne događa tipa GRANDADDY, DELGADOS, REINDEER SECTION… Nekako baš tada im se dogodila Step Into My Office Baby koja je bila pravo osvježenje. Isobel je nakon odlaska odradila jedan simpatičan solo album i dva klasična indie-pop albuma pod imenom GENTLE WAVES.
Kako je Lanegan gostovao na njenom debi solo albumu, očito je da im se toliko sviđalo da su odlučili odraditi cijeli album zajedno. I ko zna šta još?!?! Iako je na albumu dat veći naglasak na Laneganov glas, koji je ponekad wejtsovski, a ponekad kejvovski, vrlo je ugodan trenutak kad se Isobel uključi svojim čarobnim eteričnim glasom. Bilo da preuzima glavni vokal ili pak samo da je tu, kraj Markovog, sve je magično, lijepo i čarobno.
Black Mountain, Honey Child What Can I Do?, Deus Ibi Est ili spomenuta obrada, samo su neke pjesme zbog kojih se vrijedi vratiti ovom albumu po nekoliko puta…
ocjena albuma [1-10]: 9

pedja // 14/02/2006