Prvo su se rasturili 2013. jer nije imalo smisla gurati bend u kome nije bilo niti jednog originalnog člana prve postave iz 1997., a onda je dvije godine kasnije, 2015. otuđeni prvotni bubnjar
Aaron Gillespie
nakon što je izboksao sva autorska prava na ime, ponovno okupio bend s tom posljednjom ekipom. Međutim, vremena su prošla kada se o njima govorilo s velikim hvalospjevima kao jednim od pionira christian death/ black metala, mračnog post-hardcorea i modernog metalcorea. Povratnički album "
Erase Me
" (2018, USA no.16) srdačno je dočekan premda to više nije imalo niti malo iskonskog žara; bio je nakićen dobitnim formulama alternativnog rocka s hard rock štimungom isprepadajući neočekivanim zaokretom. Mnogi su tvrdili i recikliranim shitom…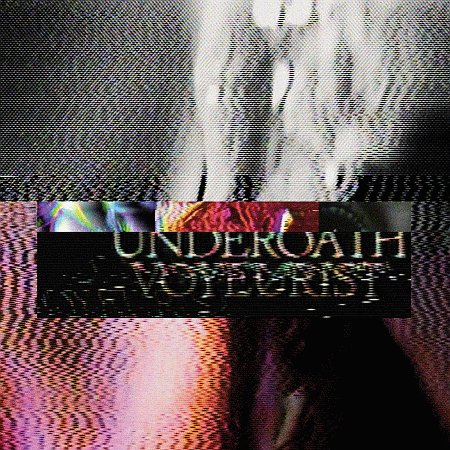 E, pa sad su svjesni da se ne smiju zafrkavati sa činjenicama velike popularnosti, doduše američke jer u Europi i ne prolaze najbolje, a ponoviti taj sumnjivi povratak bilo bi sasvim neumjesno. Prišli su daleko moćnije i žešće s podosta raznolikosti i daleko jasnijim konceptom o razglabanju aktualnosti propitujući duboke razloge i značenja smisla života i smrti, postojanja, te nezaobilazne uloge religije. Koliko u tome ima onog nekadašnjeg propovjedničkog stila govori nekoliko vitalnih pjesama u kojima se ustvari bore s vlastitom vjerom, svjetonazorom i uvjerenjem; osjeća se da im je sve poljuljano vatrenim izgaranjima iz pakla i zagonetkama postavljenim ispred vrata raja na račun armagedonske stvarnosti.
Također se primjećuje da podižu vlastitu razinu religioznosti. Iz bijesnog uvoda "
Damn excuses
" ulaze u enigmatičnu himnu "
Hallelujah
", a onda smireno poput post-rocka s nježnom i snenom atmosferom depresivne "
I'm pretty sure I'm out of luck and have no friends
" zlokobno krenu u đavolje gnijezdo dodavši i američkog repera
Ghostemanea
u mračnoj "
Cycle
". Paralelno promatrajući i nebo i zemlju, a i pakao, najžešća "
We're all gonna die
" daje do znanja da je novac ipak još uvijek glavni bog uljuljkajući se u lažnu sigurnost najmirnijeg, elektronskog drone komada "
(No oasis)
" završavajući neobičnim, šarlatanskim smijehom, a brutalnost po kojoj su gradili dva i pol desetljeća image djelomice isplivava tek u "
Take a breath
" i "
Numb
", dok je završna "
Pneumonia
" o smrti oca gitariste
Timothy McTaguea
natopljena umjerenim plesnim tempom dance-rocka U2, Echo & The Bunnymen i Simple Minds u predugačkom izdanju od 7 minuta nepotreban progressive klišej kojim samo dovlače onu tenziju da su im stilske promjene nužan izvor uljepšavanja s ponekim eksperimentalnijim ubodima.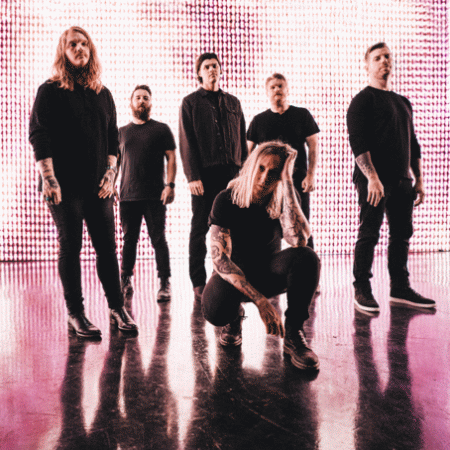 Underoath © 2022
Primjetljivo jest da su u ovakvoj postavi mnogo toga posudili od sebe samih, odnosno od ranijih albuma ne ulazeći u to koliko i kako će ga publika razumijeti. Ovo je čudan rad sa čak 5 singlova, mnogo gitarskih chug dionica po kojima mirišu na svoje konkurente Bring Me The Horizon iz sretnijih vremena (a i na Enter Shikari) s puno rada klavijaturiste
Christopher Dudleya
, ponekih elemenata Linkin Park, a valja i podsjetiti da imaju vrlo sličnu referencu u dva mješovita vokala - čistom Gillespievom i prljavom growlu
Spencer Chamberlaina
. A kako je ovdje podložan i sofisticirani scenarij o vojaerizmu da svi mi bespotrebno zavirujemo u tuđe živote što je pojačano ne samo internetom i Covid-19 serijalima novih zaraza, ovaj deveti album je posve otvoren za rasprave današnjeg teškog razdoblja zasićenog informacijama društvenih medija. Nesumnjivo jest moderan i osvježavajući u njihovom katalogu. Trebao je kao takav doći i ranije, tamo barem nakon sjajnog, ali i pomalo podcijenjenog "
Ø (Disambiguation)
"
www.terapija.net/mjuzik.asp?ID=9987
iz 2010. kada je Gillespie prepustio palice na kratko vrijeme Daniel Davisonu (Norma Jean, Every Time I Die). I sve bi bilo u najboljem redu. Osim što glavni singl "Hallelujah" kao video previše aludira na Cabaret Voltaire. Mogao im je dizajner osmisliti nešto originalnije...
Naslovi: 1.Damn excuses, 2.Hallelujah, 3.I'm pretty sure I'm out of luck and have no friends, 4.Cycle (feat. Ghostemane), 5.Thorn, 6.(No oasis), 7.Take a breath, 8.We're all gonna die, 9.Numb, 10.Pneumonia
ocjena albuma [1-10]: 7

horvi // 15/01/2022