JUANITO))) - Abysmal Wall
Ekstremni harsh noise sa distorziranim, "prljavim" kontinuitetom, harsh noise tematikom koja ga po svom konkretnom izrazu svrstava u sam vrh, kad su u pitanju pojedinci koji promišljanju o HNW žanru. Na trenutke oštrina distorzije grije obraz do te mjere da blago bočni zubi svojim kontaktnim površinama počnu istraživati. Osjećaj polako prelazi i na kapacitet pluća koji u određenom trenutku nije dovoljan u onoj mjeri u kojoj nam je on potreban. Buka toliko postaje "arogantna" da imamo težnju da se primaknemo izvoru zvuka, a sve je nekako minijaturno u doživljaju sebe. Da li prepoznajemo određene detalje u sebi koji su isuviše dobri u tom smislu da su i minijaturni, nisam siguran, zavisno od iskustva, ali želja za nekim visokim društvom se itekako manifestuje na ovom albumu. Prosto kao da je neki neidentifikovani talog u nama, onaj isti kao kad putujemo, kad nam se stvori blaga mučnina od vožnje. Distorzija se tokom distribucije buke nekako pročišćava od neke prljave grane do prave sintetičke prašine. U trenucima se osjeća "Too Dark Park" vizuelni pojam. Podsjeća pomalo i na zvuk vrata igraonice, koja prosto u kontinuitetu igre žele da se utišaju od strane igrača i tako na određeni način daju doprinos roditeljima ukoliko dođe do rata i tog posebnog režima na televiziji, i oni će biti ti koji će se klatiti uz novinara dok on bude držao naciju na tom režimu mržnje prema grupi koja je silom ugrožena.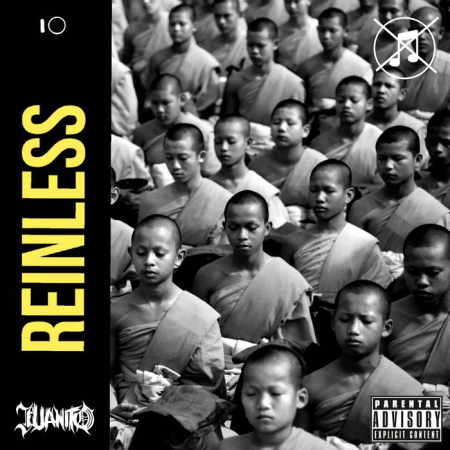 IO - Stoic
Buka u kojoj efekti predstavljaju suštinu dešavanja, jer sve što se blago odvaja je u određenom smislu otkrivanja tog dodira, osnovnog pravca kretanja, koji razgolićuje ženu i njena ne-bučna interesovanja, ali ih ne kompromituje. Mi muškarci smo sve svoje ideje stavili u službu već postojećih, razrađenih, kolektivnih dešavanja raspoloženja, kojima sugerišemo, a ne govorimo svoje mišljenje, ono je samo proizvod određene akcije mišljenja. Kad bi smo viđeli i istraživali kod umjetnika neki vid mišljenja ne bi smo ništa osim tehnike našli, obična tehnika koja ne vrijedi mnogo u estetskom ali ni u narativnom, zato osuđujem homoseksualizam koji ovim istinskim umjetnicima, a nisu se slučajno rodno istakle, kvare potrebu za jednim ovakvim zvučnim zapisima koji izražavaju mišljenje, i dolazimo do zaključka da je prava privilegija imati ženu, biti oženjen, mislim da sam komad provocira taj aspekt buke, ona je inače pravo osvježenje današnjice kad je muzika u pitanju. Dugo se ovo nije osjećalo, dok se čitava priča o duvanu u Crnogoraca nije izgubila iz naših razmišljanja. Izuzetno kontrolisanje efekata, jakim držanjem pod kontrolom istih, dok ona ne bude potpuno, u jednom trenutku, spojena u taj imaginarni zid izazvan bukom, koliko ja uspijevam dokučiti značenje HNW. Dakle momenat u kojem se kontinuirana buka spaja u jedan kratak period trajanja totalnog zida i nastavlja u smjeru propadanja buke, početnog smisla, dovođenja iste do momenta zida. Još ako nije samo to, a ovaj album jeste, pravi HNW.
Naslovi: 1. JUANITO))) - Abysmal Wall 15:00, 2. IO - Stoic 15:01
ocjena albuma [1-10]: 9

edo žuđelović // 11/08/2022
PS: Listen to the split between IO, which is lately creating walls of insurmountable noise in several releases on world labels; and the great master of extreme sound, based in Barcelona, Spain: the architect with a postgraduate degree in sound implosion, JUANITO))). An album with fifteen minutes for each composer of ruidist concretism to show their fertile capacities when it comes to brutalism with musical notes. Don't miss this noise duo, which today starts a partnership so that our dear listeners can enjoy this work that they carried out especially for you followers of the "Church" with great affection and excitement.