Našli su se. Našla su se dva rumble slundaša, nama znani fantje z dežele i
Shitmonger
, noisegrindcore bend iz Švedske koji voli raditi split izdanja, a imaju ih 8 komada do sada uz još tri samostalna rada. Podataka o njima nema, evo može se samo utvrditi činjenično stanje da rade vrlo kratke stvari od po desetak-dvadesetak-tridesetak sekundi u skladu sa žanrom, a sad jbga, hm, imaju li u postavi neki analogni svirački komplet poput bubnjeva i gitara, huh, ne bi se dalo odgonetnuti ili je sve plod elektronskog noisea poput najjačeg i najžešćeg Merzbowa kada stvara nesnosnu buku. Kdo ve?
Po naslovima, jer ih ovdje imaju čak 10 komada dalo bi se hipotetski šugavirati da imaju oho-ho materijala, ma brus-li slund, to im traje jedva sveukupno 3 minute slundanja na vrlo poznat Slundov način. Ajde, de, približno sličan, ali ipak nije to Slundovo slundanje i rešetanje. No, može proći kao ugodna popuna jutarnje gimnastike u rascjepu vremena od uobičajenih frustracija egzistencijalizma, ljubezenskih napak in vsega n vrh qrca po lošem obdobju.
The Slund Show S01E5:
A Slund ga fino slunda malo više od 3 minute isto toliko skladb, vsaka eno minuto in sekundo-dve uključujući obvezatne samplove z znanih ameriških TV norčija. Zdaj bom vse zmotil ker sem priložil The Slund Show, season 01, episode 5 z ljubezenski pesmi polni romantike "
Hatred
", "
12 units
", "
Robin is a lame sidekick
", "
Crack is great for the environment
", "
Straw
", pa relaksa "
Slund state of mind
", malce okoli probavnih težav "
Gasoline
" (na split izdaje z Suicideforce), domaćih žival "
Attack of the slund beast
", masaži mednožja "
Let there be noise
", baletne gimnastike "
Self inflicted
", malce pobožnjačke evharistije, zelo precej poučno in vzgojno, izobraževalno, ravno v času televizijskih novic pred spanjem brez skrbi.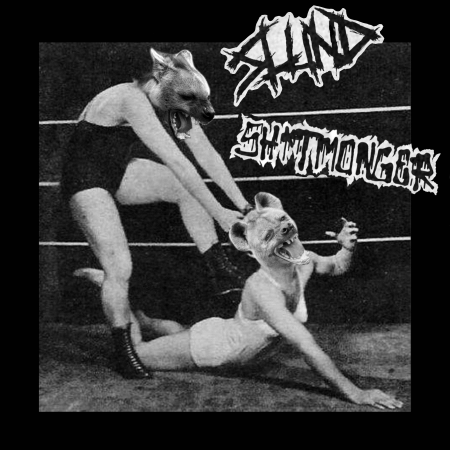 Ih, fuck, te so pesmi več ali manj z splita with Lycanthrophy, potem "
Slundcore Superhero
" in "
Slund 'Em All
" albuma in malo pozno s tovrstno promocijo, ampak kaj? Nikoli ni prepozno.
Naslovi: 1-10 SHITMONGER: 1.Ready to rumble, 2.4 seconds of straight edge noise, 3.Dance to the wicked, 4.XXX, 5.Unholy moments, 6.Heinz, 7.No smart words spoken, 8.Vegetragic, 9.Your jokes are boring, 10.Millennial crisis
11-13 SLUND: 11.Punkin', 12.Allergic 2, 13.Hallelujah
Ocjena SHITMONGER (1-10): 5
Ocjena SLUND (1-10): 7
horvi // 13/09/2022