U Zagreb se, kao prvi dan službene turneje '
Thrice Woven
', 15. studenog vraćaju američki ekscentrični black metalci Wolves In The Throne Room
https://www.facebook.com/wolvesinthethroneroom/?fref=mentions
, koji su u novu postavu dodali i trećeg člana. Psihodeličnoj black metal melankoliji, predhodit će mladi belgijski black metal bend Wiegedood
https://www.facebook.com/wiegedood/?fref=mentions
.
Uoči ove turneje oglasio se bubnjar
Aaron Weaver
:
'When we first came to Europe over 10 years ago we had no idea what to expect. Would we be accepted? Would we be hated? We could only pray that Europeans would understand what we were trying to say with our music.
And so we got in the van and made our way across your continent. We met in celebration with metal heads in leather and spikes, goths, left-wing squatter punks, all kinds of artists and heart-warriors in the cities and countryside. All people of good heart and free spirit! We met so many amazing people who changed our lives and opened our minds. Thank you people of Europe. Now, the THRICE WOVEN era dawns upon your shores.
Hail to the fans! Thank you!
Aaron'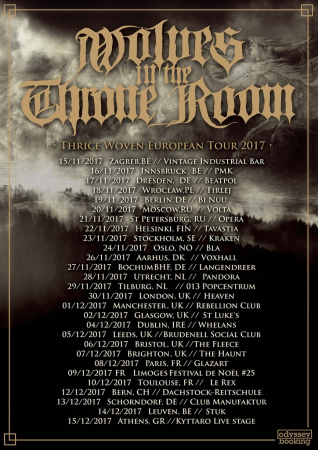 WOLVES IN THE THRONE ROOM
(SAD)
Njihov specifičan pristup black metalu, nerijetko zainteresiraju one predrasudne slušatelje koji se na malo drugačiji način susreću s odama kišnim olujama, šumskim paljevinama i energijom sjeverozapadnog Tihog oceana. Zvuči neobično? Onda ih obavezno morate poslušati.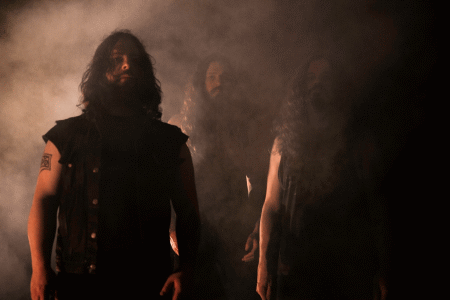 Prvi studijski album '
Diadem of 12 Stars
' (2006.) bio je ključan za predstavljanje rušenja pojmova i navika black metal glazbe. Postavili su jedan zanimljiv miks melankolične i psihodelične kaskadijske atmosfere (elementi prirode, poput bendova Liturgy, Agalloch…).
Taj album ih je svrstao u jedne od najcijenjenijih bendova u ekstremnoj glazbi. Neupitan je utjecaj norveških velikana black metal glazbe poput Emperora i Burzuma, no u samom startu su odbacili vizualne black metal elemenate poput corpse painta i sotonizma.
U svojoj glazbi uspijevaju spojiti black metal, crust, indie rock i ambijentalnu glazbu, a iza sebe imaju 6 studijskih albuma, od koji je posljednji, ovogodišnji, '
Thrice Woven
', čiji je službeni datum izlaska 22. rujna.
Braći
Weaver
ove se godine na gitari pridružio i novi član,
Kody Keyworth
, a najavljeni album trebao bi bend vratiti na 'stare staze', pa bi se između redaka dalo pročitati da će se bend koncertno držati starijih pjesama.
ČLANOVI:
Aaron Weaver (bubanj, gitara, synth)
Nathan Weaver (gitara, vokali)
Kody Keyworth (gitara)
DISKOGRAFIJA:
2004. Wolves in the Throne Room (demo)
2005. Demo (demo)
2006. Diadem of 12 Stars
2007. Two Hunters
2009. Live at Roadburn 2008 (live)
2009. Malevolent Grain EP
2009. Black Cascade
2011. Celestial Lineage
2013. BBC Session 2011 Anno Domini EP
2014. Celestite
2014. Turning Ever Towards the Sun (live at Neudegg Alm)
2017. Thrice Woven
Facebook:
www.facebook.com/wolvesinthethroneroom/
Bandcamp:
wolvesinthethroneroom.bandcamp.com/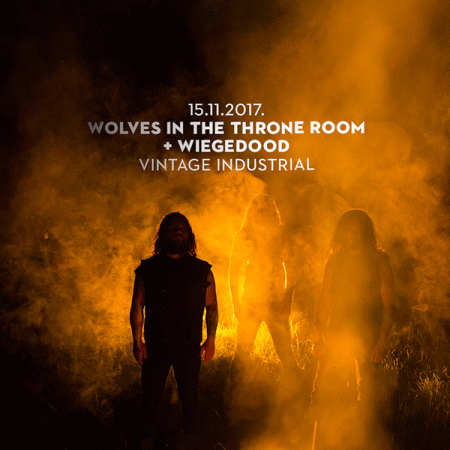 WIEGEDOOD
(Belgija)
Mladi, ali ljuti i opasni belgijski black metal trio Wiegedood otvorit će koncert. Iza sebe imaju dva studijska albuma. Prvi '
De doden hebben het goed
' iz 2015. i ovogodišnji nastavak '
'De doden hebben het goed II
', koji će ujedno i predstaviti zagrebačkj publici. Značenje imena benda je također u duhu glazbe koju sviraju. 'Wiegedood' s belgijskoj preveden na materinji hrvatski znači - smrt u kolijevci.
Facebook:
www.facebook.com/wiegedood
Bandcamp:
https://wiegedood.bandcamp.com/album/de-doden-hebben-het-goed-ii
karte: 85/100 kn
pretprodaja: VIB & Kavez (Savska 160) i Dirty Old Empire https://www.facebook.com/DirtyOldEmpire/?fref=mentions (Tratinska 18)
Više informacija o programu Vintage Industriala:
www.vintageindustrial-bar.com
www.facebook.com/vintageindbar
www.twitter.com/VintageIndBarZg
www.instagram.com/vintageindzagreb
terapija // 05/09/2017