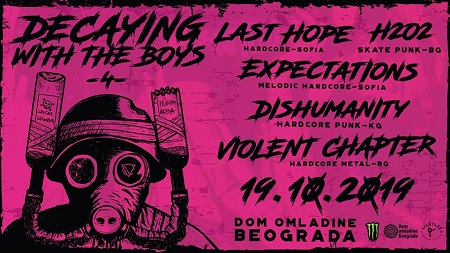 Kao i prethodne tri godine bliži se, sada već tradicionalni, Decaying With The Boys. Četvrto izdanje (Decaying With The Boys 4) pružiće kao i do sada pobornicima najčvršćeg zvuka raznovrsni materijal. Ovim festivalom domaćini, lokalni veterani hcmetal muzike Violent Chapter žele da publici približe svoj senzibilitet van domena poimanja jednog benda. Cilj je jasan - učvršćivanje hardcore, metal i punk scene kao i dobar provod!
Jedno od najzvučnijih imena balkanske oldschool HC scene, Last Hope, dolazi iz Sofije, kao i njihovi melodični i melanholični hardcore sugrađani Expectations. Lokalnu podršku će uz domaćine pružiti kragujevačke downbeat/crust legende Dishumanity i nove mlade skatepunk nade H2O2.
Mesto zločina je Dom omladine Beograda, datum subota 19.10.2019, a početak je najavljen za 20h. Karte će se prodavati na ulazu po ceni od 600 RSD.
Last Hope
http://youtu.be/vGg45ZhrrCQ
Expectations
http://youtu.be/eLrYIXC6iZU
Dishumanity
http://youtu.be/LvT9MYauD9E
H2O2
http://youtu.be/S7T8QAZMi9Q
Violent Chapter
http://youtu.be/R6aH64iHvdI
FACEBOOK EVENT:
https://www.facebook.com/events/427888347808661/
promo guy // 02/10/2019