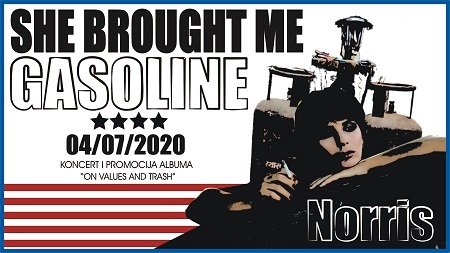 She brought me gasoline promovirat će svoj album prvijenac "On values and trash" u subotu, 4. srpnja 2020. godine, u zagrebačkom Norris baru (Oreškovićeva 19).
Album je ovog proljeća internacionalno objavio talijanski Go Country Records, a kritičari ga opisuju kao odlično izdanje u kojem se uigrano isprepliću bendžo i gitara, te koje se stilski nalazi negdje na prostoru između klasičnog bluesa, americane i alt-countryja.
She brought me gasoline su se na sceni pojavili 2016. godine s duplim singlom Pathway/Soul made in China, o kojem su pohvalno pisali domaći i strani glazbeni portali, a britanski Maximum Volume Music ih je tom prilikom izabrao za bend dana.
Nakon objave trećeg singla "Sometimes trouble comes" bend se našao na prvom mjestu top liste Cener Radija 101, nastupio na Hrvatskoj televiziji te imao privilegij otvoriti Sugar Cube Blues Fest.
Tijekom 2019. godine, povukli su se u studio te snimili album "On values and trash" koji su najavili spotom za pjesmu Town of lost souls, snimljenim u režiji Doringa.
U okviru nastupa 4. srpnja 2020. godine, She brought me gasoline će odsvirati repertoar s albuma, a više o informacija o bendu i promociji dostupno je na njihovoj stranici: 
http://sbmgasoline.info/she-brought-me-gasoline-promovira-album-u-norrisu/
FACEBOOK EVENT:
https://www.facebook.com/events/2579637145611878/
promo guy // 02/07/2020